Chronic Logic's Gish is one of the weirder games we've played; it's a side-scrolling action game with attention paid to physics as you control a blob that's trying to rescue his girlfriend. Gish's co-creator, Edmund McMillen, has put his unique spin on another new game for the Mac called Aether. You can download it or play it online using Adobe Flash.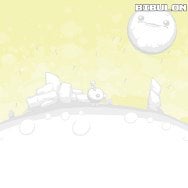 In Aether, you play as a boy who leaves the Earth in search of life elsewhere in the Universe — and specifically, someone he can relate to. He discovers lost planets that need to be saved, solving puzzles to bring them back to life.
Aether uses simple controls — WASD buttons to control motion and mouse aiming and button clicks to fire. It features the unique character designs of McMillen, whose other work can be seen at his Web site, Cold Storage Designs. McMillen mixes cute characters with sometimes grotesque imagery to develop a unique look. McMillen collaborated with Tyler Glaiel to create Aether, which he says was created in 14 days.
Aether is free to download or play online. The download version runs in Flash Player.