Maverick Software has announced the release of Jiggy for the iPhone and iPod touch. It costs $3.99.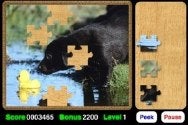 Described as a cross between a jigsaw puzzle and Tetris, in Jiggy, you must put together a puzzle from falling pieces as you race against the clock. Let too much time elapse and you'll stack pieces too high. You have to put pieces into the right position to solve the puzzle.
Jiggy features 35 puzzles, multiple skill modes including a "kid mode" that gives hints and has no time limit, high score tracking, sound effects and music, automatic save and resume.
Jiggy runs on any iPhone or iPod touch running iPhone 2.0 software.