At a Glance
Expert's Rating
Our Verdict
Back in June 2007, I covered Brenthaven's $20 MacBook Sleeve, an impressively protective case at an impressively low price. As I explained at the time, the Sleeve was originally designed for some of Apple's "one-student-one-laptop" initiatives:
The challenge, according to Brenthaven, was to come up with a protective bag that would hold up to the abuse of school-age kids but that was also inexpensive enough for school districts to buy in bulk. The company settled on a rigid sleeve design that could be put inside whatever bag or backpack each student preferred.
The company has since updated the MacBook Sleeve to give it a less-utilitarian appearance; the new version is called the Trek Sleeve and is priced at a still-reasonable $30. (Education customers continue to pay just $20.) I've been testing the Trek Sleeve for a few months, and it's impressed me as much as the original, offering very good protection and some basic organizational features—as well as a lifetime warranty—at a price many vendors charge for a simple fabric or neoprene sleeve.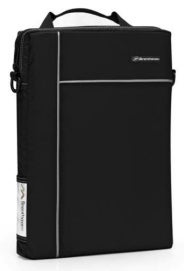 Like the MacBook Sleeve, the Trek Sleeve weighs less than a pound and is designed to fit a 13.3-inch MacBook snugly; it also fits the MacBook Air, though with a bit of wiggle room. The Trek Sleeve retains its predecessor's rigid-panel front, back, and bottom, with thick padding on all six sides. With a MacBook inside, the Sleeve measures approximately 14 inches long, 10.5 inches wide, and 2 inches thick, so it fits easily inside a standard backpack, and will even fit in the laptop compartment of many computer bags. You can also carry the Trek Sleeve by itself using its nylon handle (the original MacBook Sleeve had a nicer rubber-over-nylon version) or by attaching a shoulder strap (not included) to the Sleeve's two metal D-rings.
The biggest changes to the Trek Sleeve, compared to the MacBook Sleeve, are on the outside. In addition to making the new version less utilitarian-looking by smoothing out the nylon, using grey accent stitching, and adding a couple strips of reflective trim, Brenthaven has also tweaked the organizational features. On the back of the sleeve are a slip pocket for documents or a couple magazines, as well as a zippered pocket for your laptop's AC adapter and a few cables. There's also a small, mesh pouch on the side for an ID or name tag; this pouch isn't quite as visible as the clear-plastic ID pocket of the original Sleeve, and it's more difficult to fit a business card inside, but it works.
Of course, at this price point, you don't get the niceties of a more-expensive bag. For example, the Trek Sleeve's nylon is fairly thin and not nearly as rugged as the heavy-duty ballistic fabric Brenthaven uses on its higher-end products. And as I noted above, you'll need to provide your own shoulder strap. But I still haven't seen a bag or sleeve at this price that provides as much protection and utility.