Sometimes, a situation is so fouled up that there is no polite way to describe it. Such is the situation with the tracking of iPhone App Store updates. The system is inaccurate, inconsistent, and utterly confusing. And that's when it is working at all.
The situation is so messed up that it is difficult to present a list of symptoms. Instead, let me describe the shenanigans that occurred during my most recent attempt to update my downloaded App Store apps.
Updating the iTunes Library
It all began when I launched iTunes and glanced at the Applications item. The number 6 was showing alongside the item, indicating that 6 updates were available. Sure enough, when I clicked Applications item to view the icons for my App Store applications, the text button at the bottom of the screen agreed: "6 Updates Available."
So far, so good.
That's when it all fell apart.
I next clicked the "6 Updates Available" button; this took me to the the Updates screen. Oddly, only five apps were displayed as available for updating; not six. Undeterred by this minor inconsistency, I figured I'd at least download the five identified updates. I clicked the "Download All Free Updates" button and watched as the five apps downloaded to my iTunes Library.
When it was done, I rechecked the Applications screen. The text button at the bottom now claimed "1 Update Available." The reduction from the previous six indicated some degree of sense. I had just downloaded five apps. Six minus five was indeed one.
However, when I returned to the Updates screen, it continued to list the same five apps that I had just downloaded. And there was still no indication of the mysterious unlisted sixth app.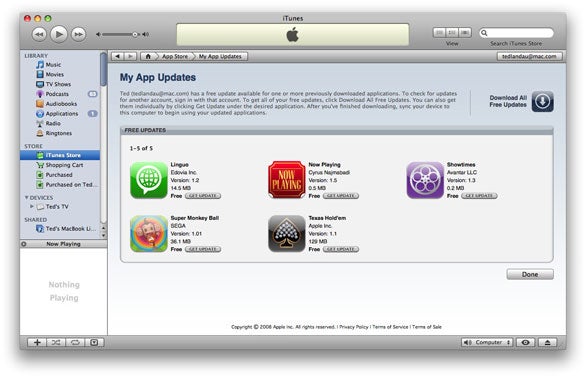 Just to see what would happen, I selected to re-download the five apps. I thought I might receive an error message stating that they had already been downloaded. No such luck. Instead, they downloaded again—leaving an unneeded duplicate copy of each app in my ~/Music/iTunes/Mobile Applications folder.
At some point in all my downloading and clicking, the Updates screen unexpectedly showed six apps as available for updating. The newly added app was Twitterrific (version 1.1). I clicked the "Get Update" button for Twitterrific and it downloaded successfully.
The Applications screen, however, still stubbornly claimed "1 Update Available" —while the Updates screen reverted to mistakenly listing five updates as available (Twitterrific was now gone again).
I began to despair of ever making any sense of this. Unfortunately, things were about to get worse: I was about to add my iPhone to the equation.
Updating the iPhone
For starters, I checked to see what the App Store on my iPhone had to say about available updates. The App Store claimed 5 updates were available. They were the same five apps that were showing up in iTunes. (Twitterrific was not listed.)
Rather than install these updates directly from the iPhone, I connected the iPhone to iTunes and selected to Sync. This presumably would transfer the updated apps, already downloaded in iTunes, to the iPhone. As I watched, the sync proceeded as I had hoped. All six updated apps, including Twitterrific, were transferring to the iPhone. I felt a glimmer of encouragement. Was this the step that would at last bring harmony back to my iPhone updates? Hardly.
First, one of the updates, Apple's Texas Hold'em, ultimately failed to transfer to the iPhone—due to an "unknown error 0xE800002D" (whatever that means). Making matters worse, the previously installed and working version of Hold'em had now vanished from my iPhone!
As a minor victory, I was able to get Hold'em to return to my iPhone simply by syncing again. The error did not recur on the second sync. Sadly, all of my previous Hold'em data (such as my previous winnings) were now gone; I had to start from scratch.
As for the Updates listing in the App Store, it now said only one update was available: Twitterrific! Recall that Twitterrific was not included in the list prior to my installing the updates. Adding to this confusion, it listed Twitterrific version 1.0 as the update-in-waiting, even though I had supposedly just synced version 1.1 to the iPhone.
Meanwhile, back in iTunes, the Applications screen continued to claim "1 Update Available." However, when I went to the Updates screen to see what app was listed, it now said "…no updates currently available"—not even the irritating Twitterrific.
I had an idea about how to resolve the Twitterrific inconsistency: I deleted Twitterrific from the iPhone, connected my iPhone to iTunes, reselected Twitterrific to sync with my iPhone and clicked Apply. Twitterrific indeed reinstalled on my iPhone. Unfortunately (although not surprisingly by now), all my previously entered Twitterrific account info and settings were gone.
More to the point, would this reinstall get the iPhone's App Store to stop erroneously listing Twitterrific as an available update? Who knows? The App Store icon in the Home screen still indicated one update available. However, when I went to the Updates screen in App Store, a message popped up that claimed "The iTunes Store is temporarily unavailable." This was more than a bit odd, as the rest of the App Store's connections to the ITunes Store (such as for new purchases) were working just fine. Others are having this same problem, with no clear solution (see this Apple Discussions thread).
For the moment, I put off trying to learn more about this latest wrinkle. Instead, I returned to my iTunes Library listing, determined to find out why it too continued to list one update as available. I decided to delete apps from the Applications screen one by one, checking each time to see if the Update listing changed. Eventually, I found the culprit. It was Now Playing. This application was previously named Box Office. With some further digging, I discovered that my Mobile Applications folder still contained the older BoxOffice.ipa file (due to what I consider to be a bug in how the update process works). This was the source of the persisting update availability listing. After moving the BoxOffice.ipa file to the Trash, iTunes' update error vanished.
Of course, there was still a lot that did not make sense here. For one thing, even though one update had been listed as available, neither Box Office nor Now Playing showed up as the lone app needing an update. Eventually, I plan to continue my efforts to disentangle this mess. For now, I give up. I have a splitting headache and need some rest. By the time I recover, maybe Apple will have found a way to fix things, saving me the trouble.