If you wandered into Thursday night's launch party for Electronic Arts' new Spore game, you would have found yourself inside a planetarium listening to a lecture by an astrophysicist. Or you might have joined other members of the press at a black-tie event, where attendees accessorized their clothing not just with ties and handbags, but feathers, spikes, and faux-carapaces.
Held in Golden Gate Park's California Academy of Sciences, this was clearly not your typical launch event. Then again, Spore is not exactly a typical game.
Spore comes from a shining star of video game developers, Will Wright, the man behind such famous games as Sim City, Sim Copter, and The Sims. Anticipation for his latest project was naturally stellar, and the sheer ambition of the project makes it a true hallmark of gaming. Wright wasn't just shooting for the stars with this one, but trying to encapsulate entire galaxies. How's that for scale?
Essentially, Spore is a game that allows you to direct the life and development of an organism from its cell stage all the way to its exploration (and dominance) of the galaxy. Spore is essentially five games in one broken up into different stages: an action/arcade cell game, a basic role-playing game with the creature phase, a squad-command game in the tribal phase, a real-time strategy game in the civilization phase, and finally a culmination of many of these elements in the space phase. In one game, you are essentially covering millions of years of evolutionary development. (Or, if that's not your thing, Spore can also be viewed as a game where you play an invisible force designing creatures).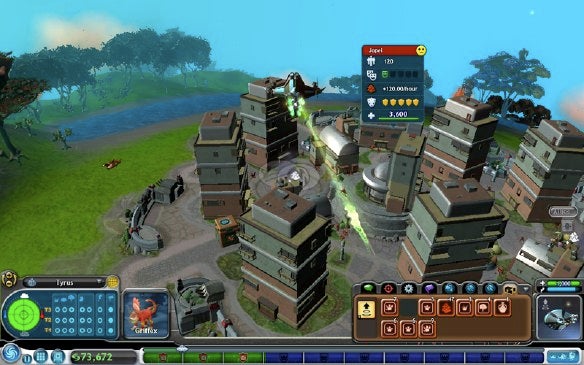 So it was only logical to have astrophysicist Frank Drake (author of the Drake Equation and founder of the Search for Extra Terrestrial Intelligence initiative) lecture the assembled members of the press on the significance of this game. Like all of Wright's games, Spore is also an educational tool. Drake is impressed with Spore because it gets people interested in science. It also allows people to imagine for themselves what they think aliens would look like, or perhaps even what we may one day look like. Drake demonstrated what he imagined a more evolved homo sapiens may look like with four arms, able to produce food through photosynthesis, and a mouth by its stomach. We then watched as this "Super Sapien" did back flips and danced for our amusement in Spore's Creature Creator.
At its very core, Spore is about expressing individual creativity. The level of customization is simply staggering- from your creature's look to the buildings in their city to their spaceship and eventually the planets themselves—all can be made as malleable as clay. Due to the June release of the Spore Creature Creator, users have already populated the Spore database with more than 3 million different creatures. Even the developers did not imagine the level of interest that Spore has generated.
After playing the creature phase and tribal phases for a couple of hours and being forcefully removed because it was someone else's turn to play on the demo machine, I can honestly say that the developers might be low-balling expectations here. A game that is this expansive and has this much freedom of customization will likely appeal to gamers of all types.
Spore launches on September 9 and runs on Mac OS 10.5.3 or later. It's priced at $50 for the regular version and $80 for the "galactic edition" that comes with lots of extras. Spore Origins, a game based on the desktop version, is already out for the iPod, and EA said Friday it plans a Spore Origins version for the iPhone and iPod touch later this month. We'll have a first review for Spore within the next week, with a full review to follow.