At a Glance
Expert's Rating
Pros
Easy to use
Excellent image quality
Cons
No wireless feature
Ome may not like reflective glass on frame
Our Verdict
With its real wood, double-matted, and glassed frame (interchangeable mats are included), HP's df820 digital picture frame looks about as close to a traditional picture frame as you can get. The only giveaway is the telltale dangling AC power cord (if the frame is hanging on a wall).
The df820's 7-inch, 800-by-600-pixel display produced excellent results in our tests, with natural-looking, saturated, and detailed pictures. It also displays video (in MPEG or motion JPEG) and plays MP3s with your slide show or video. The sound on this frame was a little tinny but not terrible.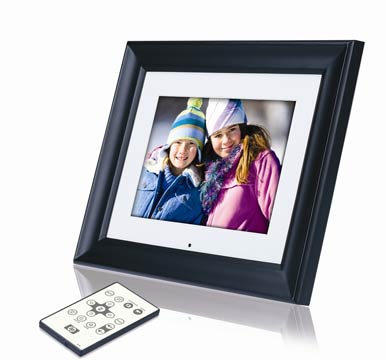 What I liked best about this unit, aside from its excellent image quality, was that it is exceedingly simple to create slide shows; you simply plug in a memory card and use the touch-activated border to customize both the time between photos and the transitions used. The frame has 512MB of internal memory and accepts a wide range of storage cards (CompactFlash, MicroDrive, MemoryStick, MMC, SD, and xD). The df820 does not have Wi-Fi, so you can't stream feeds from online photo-sharing sites.
HP equipped the df820 with PictBridge, too, so if Mom wants to print a photo of you and your sister, she can do so instantly without a computer. Just connect the frame to a PictBridge-enabled printer.
My biggest gripe: You can't change the order of your pictures, nor can you shuffle them. They stubbornly appear in the order of loading. Additionally, the only way to power on the unit is via a switch on the frame itself; this function is absent on the included remote control.
Macworld's buying advice
The df820 may not have a lot of features, but it is very easy to use, and its image quality is excellent. If good-looking pictures are the most important thing you want in a frame, you won't be disappointed with the df820.
[Kathleen Cullen is a freelance contributor.]