At a Glance
Expert's Rating
Pros
Different gameplay modes
Spore import and export from the Web site
Cons
Performance hitches when action gets busy
Our Verdict
Electronic Arts is quickly building a new franchise out of SimCity creator Will Wright's newest game, Spore. Even before the game was available for the Mac and PC, Spore Origins debuted for the iPod. Is the iPod up to the challenge of evolving life? The answer, surprisingly, is yes.
Spore Origins essentially distills down the first part of the full game to portable play. In Spore Origins, you control a microscopic critter that's swimming around in a pool of muck. The Click Wheel lets you control the creature's motion, up, down, left and right, as it searches for food—to wit, creatures smaller than itself. The Spore can also attach to "symbiotes," free-swimming little power-up blobbies that imbue the Spore with special abilities, such as extra speed, poison which will make other creatures reluctant to eat you, and so on. It's pretty basic—eat or be eaten.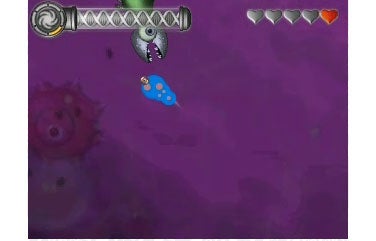 There are three separate gameplay modes. The biggest and most entertaining one is Evolution mode, where you step through the creation of building a bigger and better Spore. In between each of the three levels of chasing around food and symbiotes and avoiding bigger critters, you can make adjustments to your Spore—determining how it will move, what sort of offensive and defensive capabilities it has, and what it looks like. This includes occasional access to "super parts" like a lure that attracts food to you, a shell that makes you invulnerable, a part that can electrocute other creatures, and an air jet to get away from everyone. As you can image, the super parts only work for a short time.
With each progressive evolutionary step, your Spore gets a bit bigger. Within a few levels you'll find that creatures which were monstrous predators just a short time ago are now your Spore's prey as it slowly grows and changes its habitat from murky pools to deep water and more.
There's also an Aquarium mode—a sandbox gameplay mode, if you will, that lets you use the tunes from your iPod's library. You just sit back and watch the creatures in the Aquarium evolve at their own pace. You change the song to evolve the creature in your Aquarium that you've highlighted.
Although playing any game on the iPod is a solitary experience-there's really no effective way to manage multiplayer capabilities, though Spore Origins does have the ability to share creature designs with other players. As you evolve your Spore through the Evolution Mode, you can trade your Spore designs with other Spore Origins players and combat against those designs in an Arena Mode. This requires you to set up an online account on the Spore mobile Web site, and it also requires you to manually import and export your Spore designs (using "DNA codes" that determine how the creature is built). Also, there's no real interactivity, except for camera control—the Spores fight each other automatically. Still, it can be fun to watch them battle against each other.
The iPod version of Spore Origins is compatible with third-generation iPod nanos, fifth-generation iPods, and the iPod Classic. (EA says it's working on a version for the iPhone and iPod touch.) As usual, the iPod's tiny screen is a hindrance to a really great gameplay experience. But the Click Wheel is actually a terrific input device for this game, and it's used well here. On my fifth-generation 30GB iPod, I found that the game ran well until there were a fair number of creatures on the screen—once that happened, the frame rate would plummet.
The bottom line
Offering a distilled experience of the first part of the full Spore game, Spore Origins makes a surprisingly good debut on the iPod, especially for $5.