Phelios, whose PTK development kit has been used to bring a broad range of games to the Mac, has announced the release of iSnap, an iPhone and iPod touch game that costs 99 cents.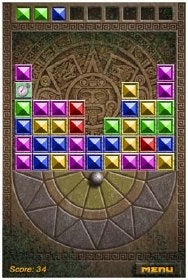 iSnap is based on a previously-released game developed by Phelios for the Mac. In iSnap, you drag a metallic ball, aim it and release it onto a board of differently-colored gems, which are cleared when the ball lands.
You must find gem groups of the same color to eliminate them in one swoop. Removing as many gems as possible is the key before the board fills up. You can also grab bonuses that can aid gameplay, along with challenges as the game goes on.