iBikeConsole is a new device for cyclists that enables users to operate their iPod nano without removing their hands from the handlebars of their bikes. It costs $86.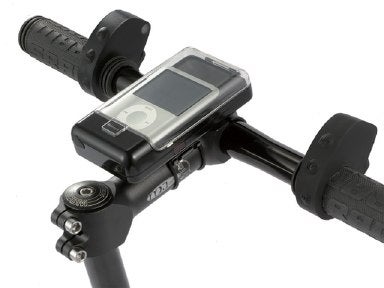 The iBikeConsole is compatible with first, second and third-generation iPod nanos. It incorporates a weather-proof housing for the iPod nano that's strapped to your handlebars; a pair of grip-mounted wireless keypads made of silicone enable you to play and pause, change tracks and adjust volume using your thumbs.
The iBikeConsole incorporates shock-absorbing lining to minimize the impact of road conditions, and uses a tool-free mounting bracket that lets you attach the iPod nano either on the handlebar or on the stem. The grip-mounted keypads wrap around the grips or handlebar of the bike. The keypad buttons are large enough to be operated even if you're wearing gloves, according to the manufacturer.
Optional speakers are also available; these enable you to listen to the iPod nano's music without blocking yourself from ambient noise.