Mundue.net on Monday announced the release of iKeno, a version of the classic game of chance. iKeno is available for purchase and download from the App Store and costs 99 cents.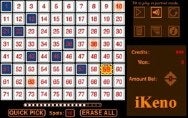 iKeno lets you play from 1 to 10 spots, wagering up to five tokens per game. Match enough numbers and watch your winnings increase. iKeno keeps track of the top 10 numbers drawn, along with win/loss statistics.
You can choose your own numbers or use a Quick Pick feature to have iKeno choose them for you. A Replay button lets you play them over again. iKeno features optional sounds and support for Landscape mode if you prefer.
iKeno runs on any iPhone or iPod touch with iPhone 2.0 software installed. Because the game simulates gambling, the App Store has rated it 12+.