American football fans are a serious bunch when it comes to supporting their team, so not being able to stay up on the action is not an option. With that in mind, Plusmo has brought a new application to the iPhone called Pro Football Live.
The thing that makes this application different is that it combines up to the minute football coverage with social networking features. For instance, you can chat during the game and boo or cheer a play using a button on the iPhone screen.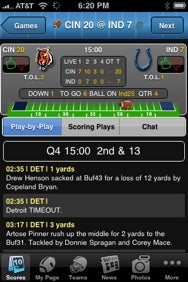 Pro Football Live also provides scores, game schedules, breaking news and pictures from the game. You can configure the application to just your favorite team or multiple teams.
And the company knows a thing or two about football. One of the major backers of the company is hall of famer Ronnie Lott.
The application is free to download and use.