Following its release for the iPod last week, Electronic Arts' Spore Origins is now available for the iPhone and iPod touch. It costs $9.99 and is available for purchase and download from the App Store.
Spore Origins is based on EA's Spore game for the Mac and PC, and is especially adapted for portable devices. The game takes its cue from the first part of the full spore game, where you control an alien life form as it evolves in a pond of primordial ooze.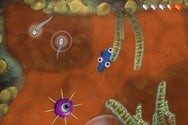 You start out as a microscopic creature eating other microscopic creatures while avoiding larger creatures that can eat you. Over the course of the game you can decide how to best evolve your creature, adding offensive and defensive capabilities, parts that can help it move faster or turn better or sense things more effectively. You can also attach to symbiotes—creatures that can help you improve speed and defenses.
You can even skin your creature using pictures from your iPhone or iPod touch's Photo Albums, use the multi-touch capabilities to pinch, pull and poke your creature, tilt and turn the screen to make your creature move, and more.
Spore Origins for the iPhone and iPod touch has two game modes and 30 levels. It's compatible with any iPhone or iPod touch running iPhone 2.0 software.