At a Glance
Expert's Rating
Pros
Five buttons plus scroll wheel
Versatile software
Battery-free wired convenience
On-the-fly switchable tracking resolution
Cons
Cable-tethered USB inconvenience
No visual indication of which resolution is currently active
Our Verdict
Now that we're well into the 21st century, it escapes me why anyone would choose a wired USB mouse over one of its wireless brethren. That said, if you're willing to put up with a long USB tail to gain battery-free convenience, then Macally's inexpensive, talented Pebble mouse is a good choice.
The Pebble has a lot going for it—its five-foot, guaranteed-to-get-in-the-way cable notwithstanding. First off, despite its small size and diminutive 1.9-ounce weight, the Pebble is a full-fledged five-button mouse. In addition to the standard left and right buttons, there's also a tiltable scroll wheel with a wheel-down button.
If you only counted three buttons in that description, you're to be forgiven. Here's the beauty part: Macally's versatile Input Manager driver software allows you to program the scroll wheel's right and left tilts any way you choose, and not merely as scroll-right and scroll-left. You could, for example, tilt right to launch the Terminal and tilt left to point Safari to Macworld.com. A wide variety of other choices are available for all five buttons, including assigning actions to scrolling while pressing downward on the scroll wheel—you could, for example, scroll to move vertically and press-scroll to move horizontally.
Another interesting feature of the Pebble is its ability to change tracking speed on the fly by allowing you to switch its laser's resolution to 400, 800, or 1,600 dpi. While the same type of tracking-speed adjustment can, of course, be made in OS X's Keyboard & Mouse System Preferences pane, gamers may find it valuable to be able to jump from a fast-moving cursor to a slow, precise one merely by tapping a quick button combination.The only problem is that there's no visual indication on the mouse as to which resolution is currently active.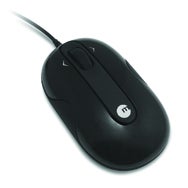 Ergonomically, the Pebble is nothing special. It's ambidextrous, light—almost too light—and has ever-so-slightly rubberized grips. It's a comfy mouse, but nothing to write home about.
Macworld's buying advice
If you're looking for a versatile mouse with equally versatile software, and you don't mind the hassle of a USB cable, the Macally Pebble 5 Button USB Laser Mouse is a great choice. At only twenty bucks, you can't lose.
[Rik Myslewski has been writing about the Mac since 1989. He has been editor in chief of MacAddict (now Mac|Life), executive editor of MacUser and director of MacUser Labs, and executive producer of Macworld Live. His blog can be found at Myslewski.com.]