At a Glance
Expert's Rating
Pros
Friendly for both lefties and righties
Stores USB receiver underneath body
Coordinated in five delicious colors
Lightweight
Cons
Short range
May be too light for some users
Our Verdict
The trackpad on Mac notebooks works well, but it's hard to beat a mouse for general Mac input. Road warriors who pack a mouse into a laptop bag want something small and durable, like Microsoft's Wireless Notebook Optical Mouse 3000 Special Edition. Despite its small size, it's a comfortable mouse that tracks well.
The 3000 measures 2.3 by 3.9 by 1.5 inches, and weighs 3.2 ounces, so it'll fit nicely in the side pocket of a bag. The mouse doesn't use Bluetooth, so you have to attach an included USB receiver to your Mac. Fortunately, you can latch the receiver to the bottom of the mouse when it's not in use, which keeps the two items together.
The mouse has three buttons: left and right buttons, and a scroll wheel button. The 3000 is designed symmetrically, making it usable for both left-handed and right-handed people. As small as the mouse is, I was able to use it comfortably (my hand is 8.5 inches from the base of my palm to the tip of my middle finger). On a regular-sized mouse, my palm usually rests on the bottom of the mouse, but the 3000 doesn't extend that far; I held the mouse using my fingertips, which I didn't find awkward. At 11 ounces (including batteries), some people may find the 3000 a little too light; at first, I had to adjust to the weight, but I was comfortable after a day.
To customize the mouse buttons, you need to download Microsoft's IntelliPoint software, which installs as a system preference. You can reassign the right and scroll-wheel button to a number of options, including Exposé and Dashboard. You can also modify the tracking and scroll speed.
According to Microsoft, the 3000 uses the 27MHz wireless spectrum, and the mouse has a range of only 2.5 feet. Testing inside the Macworld office, I got a range of nearly 20 feet inside a meeting room, with no physical barriers between the mouse and Mac. Considering that some mice have a range of 30 feet (while using the 2.4GHz spectrum), the 3000's range is a bit on the short side.
A single AA battery fits inside the mouse. Microsoft claims six months of battery life; the Energizer battery that comes with the 3000 was still going strong after one month of use (eight hours a day, five days a week).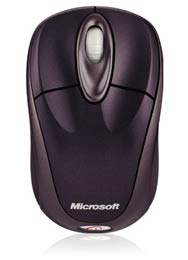 What makes this version of the 3000 a Special Edition? It's available in five colors: Aloe (light green), Crème Brûleé (beige), Dragon Fruit (pink), Milk Chocolate (light brown), and Pomegranate (red).
Macworld's buying advice
The Wireless Notebook Optical Mouse 3000 Special Edition is a solid travel mouse. It feels good and tracks well—and with its colors, it even has a little bit of design flair.
[Roman Loyola is a Macworld senior editor.]