At a Glance
Expert's Rating
Pros
Versatile software
On-the-fly switchable tracking resolution
Cons
Slippery and too-rounded left and right buttons
Too-stiff scroll-wheel button
Our Verdict
As a pint-size piece of hardware, Macally's Pebble Wireless mouse is nothing special. When paired with the company's Input Manager driver software, however, this little guy is definitely worth a second look.
The Pebble Wireless gets the basics right—mostly. Its laser tracking system makes it effective on almost any surface, its 2.4GHz wireless circuitry is resistant to interference, its two ambidextrous buttons and scroll wheel provide just the right amount of resistance, and its 3.5-ounce weight gives it a solid feel. Also, its USB dongle is conveniently tucked away between its two AAA batteries (off-brand, but included), which are accessed by simply swiveling the mouse's top half 180 degrees.
On the other hand, the Pebble Wireless's scroll-wheel button requires a hefty shove instead of a gentle click, and the on/off switch on its belly—while welcome—seems designed for Lilliputian fingers. It's also an ergonomic disappointment, with buttons that are rounded to such a degree as to be uncomfortably slippery.
It's Macally's Input Manager driver software that keeps this mouse in the competition with its better-designed rivals. Unlike more expensive mice such as those from Kensington that rely on OS X's limited Keyboard & Mouse preference pane for minimal customization, Input Manager allows you to assign a broad range of customization options to not only all three mouse buttons, but also to the scroll wheel's forward and back motion, both in normal use and while being pressed. You could, for example, launch an application by pressing the scroll wheel down and scrolling forward, and then quit it by pressing while scrolling backwards. There are 22 options for each button and scroll-wheel capability. Knock yourself out.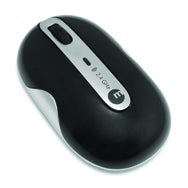 Gamers might be interested in the Pebble's ability to change tracking speed on-the-fly, which allows you to switch its laser's resolution to 400, 800, or 1,600 dpi merely by clicking a quick button combination that gives you an LED confirmation that the resolution has been changed. The same type of tracking-speed adjustment can, of course, be made in OS X's Keyboard & Mouse preference pane, but if you need to quickly jump from a fast-moving cursor to a slow, precise one while remaining in the same game or app, the Pebble is the mouse for you.
Macworld's buying advice
Macally's Pebble Wireless is a decent mouse that greatly benefits from versatile software. Also, if having the ability to switch tracking speed on-the-fly interests you, this mouse can accomplish that trick, as well.
[Rik Myslewski has been writing about the Mac since 1989. He has been editor in chief of MacAddict (now Mac|Life), executive editor of MacUser, and director of MacUser Labs, and executive producer of Macworld Live. His blog can be found at Myslewski.com.]