Smith Micro has updated its Spring Cleaning system-management utility, adding a number of tools aimed at cleaning up file clutter and managing the content of your Mac.
Spring Cleaning goes through hard drives looking for duplicate files, inactive aliases, old cache files, and other such clutter. The utility than lets you organize and delete these files, free up disk space and boosting the performance of your computer. Users can schedule regular cleanings with the software.
The newly released Spring Cleaning 10 adds a number of new features, including a file sorter that uses customized criteria to organize documents, images, and music into folders according to file type, size, date created or modified, and other data.
The Photo A.K.A. feature offers Picasa and Flickr support for renaming, resizing, and uploading photos directly to albums on the online photo-sharing sites. The Photo A.K.A. feature also supports importing images from cameras and exporting them to iPhoto with meaningful file names. Users can also take advantage of image archiving features such as burning fils to disc, saving files to archives or disk images, e-mailing files, and resizing images.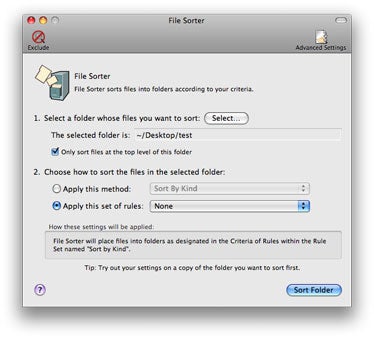 Other tools include a movie finder that can identify 17 common video formats including QuickTime, Windows Media, MPEG, Flash, AVI, and others. A podcast finder performs a similar function with audio files, finding files that iTunes recognizes as podcasts and keeping them in a sole library.
Spring Cleaning 10 supports AppleScript as well as Python and Ruby for users running Mac OS X 10.5. All other features are available to users running OS X 10.4.2 or later.
The new version sells for $50; registered users of any version can upgrade to Spring Cleaning 10 for $20 through Smith Micro's Web site.
Updated at 3:35 p.m. PT to replace an out-of-date screenshot supplied by the software maker.