Griffin Technology has announced an updated line of accessories for Apple's iPhone 3G. The updated line includes its WindowSeat mount and various cases.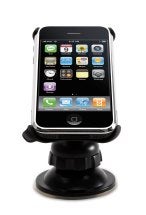 The $29.99 WindowSeat mounts an iPhone 3G, iPhone or iPod touch on the windshield or dashboard of your automobile at eye level. The pivoting mounting bracket holds the device at an angle, and an audio cable is included so you can hook it up to your stereo.
The Reflect, iClear, Streamline and Wave are all cases that are vetted for use with the iPhone 3G. The $24.99 Reflect is a polycarbonate shell with a matte black rubberized case back and reflective front; the iClear is a transparent polycarbonate case with or without a belt clip and armband, for $24.99; the Streamline is a sports armband that offers clear, full-face protection for the iPhone 3G, for $19.99; and the Wave is a case with polycarbonate corners and rigid screen protection that comes in mix-and-match color two-packs: green and black, pink and blue, pink and white, and blue and white, priced at $34.99 for each combo.