Hog Bay Software has announced the release of WriteRoom, a new notes-writing application for the iPhone. It's available for download from the App Store and costs $4.99.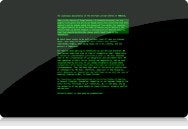 WriteRoom is a note-taking application that offers a "richer, cleaner" interface than Apple's own Notes application, according to Hog Bay. What's more, WriteRoom can also provide Wi-Fi access to your documents.
WriteRoom uses a simple interface using standard fonts and a simple black background; it puts a larger keyboard on-screen when you hold your device in a horizontal orientation.
The optional Wi-Fi access lets you browse and edit your notes from your local computer in Safari. The documents are not password-protected. Hog Bay is careful not to call this a sync system, as the document remains resident on your phone — but it does let you quickly edit text on your phone, and requires no additional software to be installed on the remote computer.
WriteRoom works with an iPhone or iPod touch running iPhone 2.0 software.
Editor's note: Due to a reporting error, it was originally stated that notes are password protected. They are not.