Avid Technology subsidiary Pinnacle Systems has introduced its new Pinnacle TV for Mac HD mini Stick, a USB-based television tuner that can receive High Definition (HD) TV programming. It costs $129.99 and is expected to be in stores on September 21, 2008.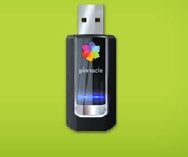 The Pinnacle TV for Mac HD mini Stick includes Personal Video Recorder (PVR) software, a high-gain telescopic TV antenna, mini remote control and a travel bag. Pinnacle claims the device can pick up digital TV signals even where signals are weak thanks to integrated signal booster technology.
The device is designed to receive over-the-air digital TV (ATSC) signals and can also view unencrypted digital cable TV — ClearQAM for both Standard Definition (SD) and HDTV, with resolution support up to 1080i. A built-in protective flip-cap keeps other USB ports from being blocked when the stick is in use.
The PVR software included with the stick is ElGato's EyeTV Lite software. It has "timeshifting" support so you can record, pause or rewind live TV. You can schedule recordings using the TitanTV.com Electronic Programming Guide (EPG) service, available for free. You can view live and recorded shows in full-screen mode or in a window you can scale larger and smaller as need be.
The Pinnacle TV for Mac HD mini Stick requires Mac OS X 10.4 or later.