Nikon on Tuesday announced that it is shipping the Coolpix S60, a point-and-shoot digital camera with 10 megapixel sensor. It costs $349.95.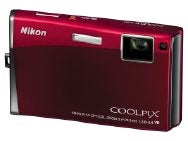 The Coolpix S60 features a 3.5-inch touch screen LCD interface and 5x Zoom-Nikkor lens. The camera also features Optical VR Image Stabilization technology. It has a scene auto selector mode, portrait one-touch zoom function, customizable "Home" screen with three options, and allows you to scroll through your photos using your fingertip on the screen.
Other features include auto image rotation depending on how the camera is oriented, a draw function and paint function (both work either with a fingertip or via the included stylus), HDMI connectivity, and various color options—red, black, white, burgundy, pink and bronze.