Sony on Tuesday introduced its first full-frame digital Single Lens Reflex (DSLR) camera. The DSLR-A900 is coming in November for $3,000.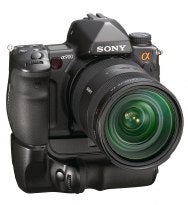 The DSLR-A900 features a 246-megapixel, 35mm full-frame CMOS sensor. It uses a new processing engine and is the first Sony alpha model to sport body-integrated image stabilization.
The viewfinder offers 100 percent field of view coverage and 0.74x magnification. The focusing screen is user-replaceable, so you can switch it with an L-type (grid pattern) and M-type (super spherical acute matte) if you prefer.
The camera can shoot continuously at 24.6 megapixels at five frames per second. You can fine-tune white balance, adjust exposure compensation and check histogram data using a raw preview image that's discarded when the actual image is written to the camera's memory card. Other features include a dynamic range optimizer, EV bracketing with a +/-2EV range, thirteen "creative styles," a 3-inch LCD display, HDMI output and Photo TV HD mode.