Apple Tuesday rolled out a new version of its iTunes music player application, highlighted by the addition of a playlist-generating feature. The newly released iTunes 8 also ties into new features available at Apple's online iTunes Store, including the ability to download and watch television programs in high-definition.
The changes to both the iTunes application and the online digital content site kicked off Apple's "Let's Rock" event, in which CEO Steve Jobs walked reporters through an assortment of changes to his company's music offerings.
iTunes 8
The new version of iTunes available for download Tuesday contains new browsing options and accessibility enhancements. But the major new addition is Genius, a feature that creates playlists from songs in your music library "that go great together, with just one click," Jobs said.
Here's how Genius works: When users select a song and click the Genius button in the bottom right corner, iTunes generates a Genius playlist of songs in the user's library that certain qualities, such as artists, genres, and other criteria. Users can set a limit of how many songs are on the playlist, refresh to get a new set of songs based on the same track, or save the playlist for later use. A button in the top right allows users to toggle on a Genius sidebar that provides recommendations of songs and albums from the iTunes Store that aren't already in the user's music library and might match the playlist.
Demoing the feature during Tuesday's event, Jobs selected Elvis Presley's "Heartbreak Hotel;" the Genius feature created a playlist that included songs from Buddy Holly, Roy Orbison, Lynyrd Skynyrd, Chuck Berry, Bo Diddley, and others. The sidebar also includes songs by the artist that user might be missing—in that case, other albums by Elvis Presley.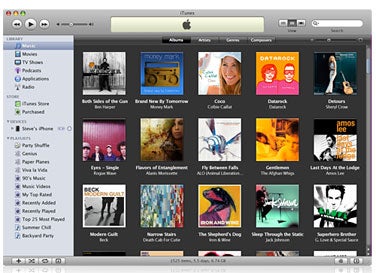 Users can also opt-in to an element of the Genius feature that sends information about their music library—including track names, play counts, ratings, playlists, and more—to the iTunes Store; the store processes that information, along with similar data from other users, to produce results tailored to a user's specific library. Jobs said that the more people submit their information to Genius, the smarter the processing will get. To stave off privacy concerns, Apple emphasized that the data is gathered anonymously and that user IDs are not kept.
Other changes introduced in iTunes 8 include built-in support for Apple's VoiceOver screen reader for vision-impaired users on Mac OS X Leopard, or Microsoft's Windows-Eyes technology on Windows Vista or XP. Using the accessibility enhancements in this version of iTunes, users can even purchase music or other content from the iTunes Store, using their screen readers.
In addition, Apple tweaked the iTunes 8 interface to let users browse by album and video covers. In talking about the existing method of browsing by album, Jobs pointed out that there was a lot of wasted space, especially for albums that only had a few songs. Instead, the new version of iTunes is patterned strongly after Apple's iPhoto '08. Users can browse thumbnails of albums, artists, genres, or even composers. And, just as with iPhoto's Events feature, users can quickly skim through the different albums of an artist, genre, or composer by moving the mouse over the thumbnail. The feature also works for movies, TV shows, podcasts, and audiobooks.
Finally, iTunes 8 has the ability to play back high-definition TV shows, a newly added component to Apple's iTunes Store. Apple also says that when users purchase an HD version of a TV show, they also get an iPod-ready version of the same video as well. And iTunes 8 also includes a new visualizer module that generates patterns in time with the music being played.
iTunes 8 requires QuickTime 7.5.5, also available today via Software Update, and OS X 10.4.9 or later. HD videos require more stringent specifications: at least 1GB of RAM and a 2.0GHz or higher Intel Core 2 Duo processor.
iTunes Store
The addition of high-def TV programs to iTunes brings a new pricing structure to Apple's online store. Standard-definition TV programs will continue to sell for $1.99 per episode, while new HD content costs $2.99 per episode.
That change in pricing policy may have triggered the other iTunes Store-related development announced at Tuesday's event—the return of NBC programming to Apple's online store.
Last fall, Apple and NBC Universal had a fallout over the iTunes Store, with the television network reportedly pushing for more variable pricing. The feud boiled over when Apple announced it would stop selling NBC Universal shows through iTunes well ahead of the December 2007 expiration date for NBC's iTunes contract. Earlier this year, however, signs pointed to the two companies patching up their differences, as NBC programs began appearing on the U.K. version of the iTunes Store.
Now those programs are returning to the U.S. store as well. Apple said programs such as The Office, Monk, Battlestar Galactica, 30 Rock, and Heroes are returning to the store. Other NBC-owned programs from Oxygen, Telemundo, and NBC Sports are expected to follow.
The iTunes Store continues to be a popular source for digital content, according to figures touted by Jobs Tuesday. Apple's online store now features more than 8.5 million songs and more than 125,000 podcasts. More than 35,000 television shows are available, along with 2,600 movies and more than 3,000 applications for the iPod touch and iPhone. There are now more than 65 million accounts in iTunes.
Apple also identified security changes made to iTunes 8.0. Among them is a change to the text used to display a firewall warning. Another change is specific to the Windows version of iTunes 8.0.
Updated at 12:05 p.m. PT to add more information from Tuesday's event.
Updated at 1:22 p.m. PT to add more information from Tuesday's event.
Updated at 1:26 PM P.T. with information about iTunes 8.0 security changes.