How well do you know your iTunes library? Apple is betting you'll know it a lot better—and that you'll find new artists and songs to expand it even more—after you upgrade to iTunes 8. The latest version of Apple's jukebox application adds a new feature called Genius that automatically creates playlists of like-minded songs and artists while suggesting iTunes purchases of a similar stripe.
Of course, Genius is just one of the changes introduced in iTunes 8 Tuesday. What else can you expect to see when you download the update? Let's walk through the changes in iTunes 8—what they offer, how they work, and how they'll change the way you use the application.
A genius for everyone
Perhaps the most-hyped iTunes addition has been the new Genius feature, which is actually two closely-related new features: Genius Playlist and the Genius Sidebar. The Genius features rely on sharing of your music library information with Apple's servers—anonymously, Apple hastens to add.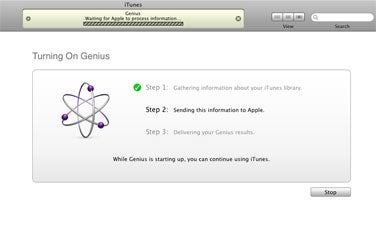 The first time you launch iTunes 8, the software invites you to set up the Genius feature—a process that involves signing into the iTunes Store, agreeing to the terms of service, and sitting back and waiting while the software gathers information about your music library. How long this data-gathering takes depends on the size of your music collection. With my 30GB library, the setup took about 10 minutes. Macworld contributor Kirk McElhearn has a library that tops 200GB; he reports that this step took more than an hour. (Not that this will tie up your computer—you can play music, listen to podcasts, browse the iTunes Store, and do other things with iTunes while Genius gathers its information and sends it off to the iTunes Store to be processed.)
The Genius Playlist is a very fast way to create a playlist of music similar to what you've selected in your iTunes library. Select a song, click the Start Genius button in the lower right corner of iTunes (or Control-click on a song and choose Start Genius from the pop-up menu), and you'll instantly—and I do mean instantly—see a playlist made up of similar music from your own library. The selected tracks may be songs by the same group or artist, or by artists that iTunes believes complements or are related to your selected artist.
After testing this a bit, I was fairly impressed with how well iTunes seemed to do at finding related music from my collection. Sure, it sometimes threw in some "huh?" choices—a playlist based around the thrasy "Here Comes Alice" by The Jesus & Mary Chain included the very mellow "Misguided Angel" by The Cowboy Junkies, for example—but for the most part, the Genius button is a great way to painlessly create playlists of related tracks.
The speed with which the playlist is created is pretty amazing—with my 30GB collection, Genius Playlists showed up without any noticeable delay on my Mac Pro; Kirk reports that it was also instantaneous with his huge library. He notes, however that it doesn't necessarily work well for some classical tracks—in many cases, it says "Genius is unavailable for the song [track name]."
Note that you can only have one automatically-created Genius Playlist at any time, and it's limited to 25 items by default; you can change this to 50, 75 or 100 by choosing the Limit To menu at the top-right of the iTunes window. If you like a given mix that iTunes comes up with, you'll want to click the Save Playlist button at the top right of the iTunes window to save these choices as a new Genius playlist. These appear in the Playlists section of the Source list above smart playlists, and bear their own unique icon. If you don't like the results, click the Refresh button to have iTunes choose another group of songs.
On its own, the Genius Playlist is a really nice addition to iTunes, but it won't help you expand your music collection—nor will it help Apple rake in more revenue from the iTunes Store. That's where the Genius Sidebar enters the picture. With the Genius features enabled, click the Genius Sidebar button at the bottom of the iTunes window, and you'll see a list of albums by the selected artist, top songs by that artist that you don't have in your collection, and a list of recommended music that's similar in style to the selected song. Click any of the entries in the sidebar, and you're taken directly to the store for the opportunity to purchase that selection. A music note icon next to the song produces a 30-second sample.
As much as I might like to pick on Apple for putting yet another iTunes Store hook into iTunes, this one seems to work quite well. You don't have to use it if you don't want to—you can collapse the sidebar with the click of a button. But once you enable Genius Sidebar, you may find it addictive. After just a few hours' use, I've already added a handful of songs to my collection—most from artists that I've never heard of—based on the Genius Sidebar's recommendations. I never would have found this music on my own, simply because I wouldn't know where to start looking for it.
You can use one Genius feature without the other, too; but here's what my library looks like when using both at once (click for a larger version).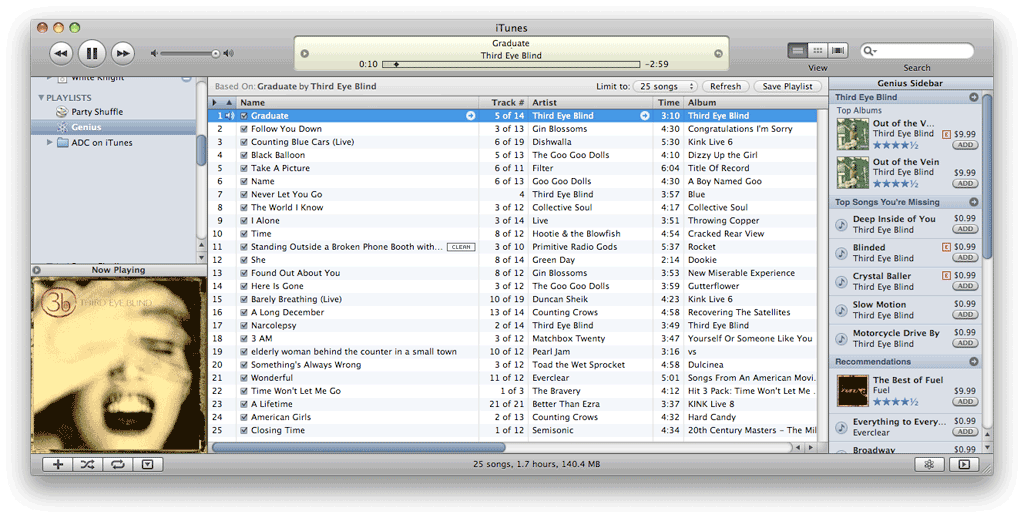 The song at the top of the playlist—"Graduate" by Third Eye Blind—is the one I had selected when I clicked the Start Genius button to create the playlist. The 25-song playlist includes library selections from Goo Goo Dolls, Green Day, and Better Than Ezra, among others. You can the see Genius Sidebar's recommendations on the right—other Third Eye Blind tunes I don't own, plus selections from similar artists like Everclear.
One minor annoyance about the Genius Sidebar: it's not resizable for width. So with longer song and album titles, you'll have to hover the mouse over those entries to see a tooltip that displays the full name. For classical music, the only information you get is the track name and album name, which usually doesn't contain the name of the composer. To see the composer, you have to click through to the store to find out whose music you're looking at.
Visualize this
iTunes has had visualizers since, well, before it was actually iTunes. Until now, though, I haven't really been that enthralled with any of them. Sure, they looked nice, but they seemed boring and repetitive to me.
The new visualizer in iTunes 8, however, has caught my eye. (The old one is still available with the View -> Visualizer -> iTunes Classic Visualizer menu.) The new one—apparently an improved version of a once-freely-available visualizer known as Magnetosphere—is quite stunning (click for a larger version):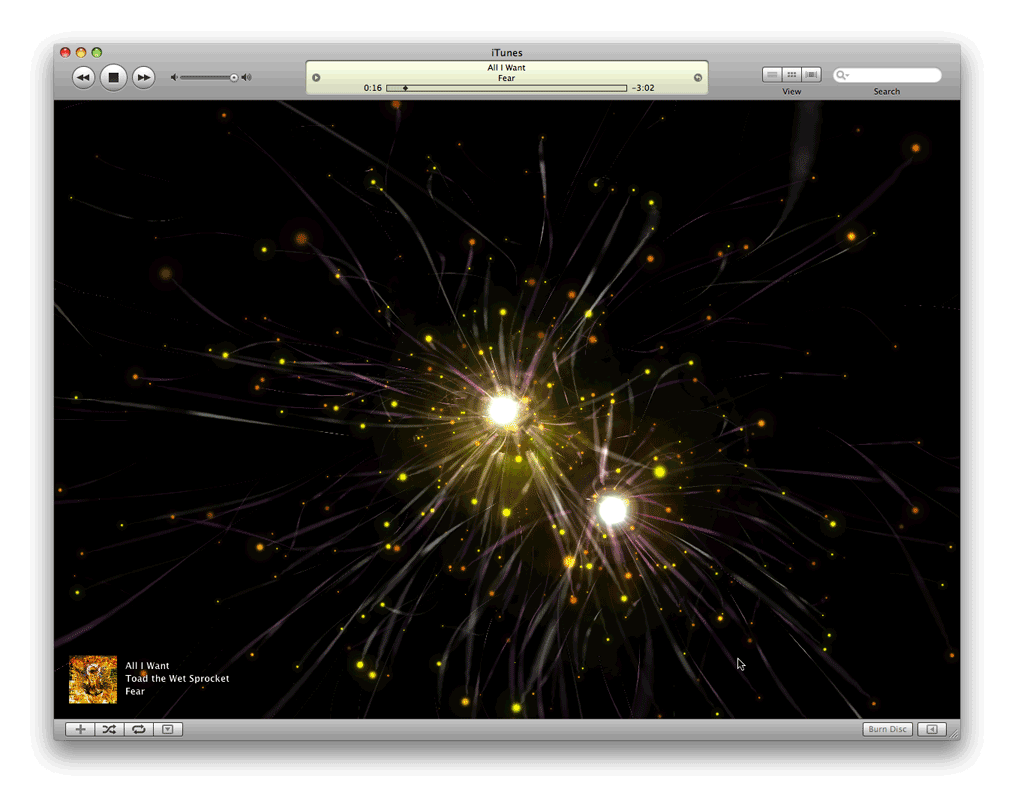 While this probably won't turn me into a full-time visualizer user, I've already used the visualizer more in the last few hours than I have in the last few years. (Here's a little visualizer hint—press "?" with the visualizer running to see the help screen, which will tell you how to change modes, lock the camera, and enable the very-cool nebula mode.)
High definition TV
While you still can't watch a Blu-ray high definition movie on your Mac, you can now, at least, watch high definition (HD) television shows. Along with the return of NBC to the iTunes family, Apple announced that many TV shows would be available at the iTunes Store in HD format. That's a significant change—previously, if you wanted to watch HD content from Apple, you needed an Apple TV and an HD-capable TV set, and you could only watch movies. Now, as long as you're willing to pay $2.99 per episode, you can watch HD TV shows directly on your Mac. (Movies, alas, are still restricted to the Apple TV.)
To kick off the new service, Apple is making a number of HD episodes available for free for a limited time—I downloaded Monk's Mr. Monk Buys a House and Heroes' Four Months Later as a test. The native high definition (HD) resolution of both shows is 1280×720, and they both looked great at that size. Viewed in full-screen mode on my 23-inch display (1920×1200), there was some fuzziness, of course, but both shows still looked quite good.
Note that when I originally tested this, I wound up with the standard definition (SD, 853×480) version of the shows. Thanks to an observant forum poster, I now know how to fix the problem, which seems to be due to an iTunes bug. If you use a shopping cart—as I do—and you ask for the HD version of a given show, you'll actually only get the SD version! To get the actual HD version (and a tag-along SD version), you need to set the Store section of iTunes preferences to "Buy and download using 1-Click." Once I did that, when I then redownloaded the HD versions of the shows, I actually got the HD versions. Sorry for any confusion, and hopefully this bug will be fixed in iTunes 8.0.1. Despite the bug, if you have any interest in watching HD TV on your Mac, this is a relatively painless way to do it.
Interface and performance changes
In iTunes 7, there were three view modes available—List, List With Artwork, and Cover Flow. In iTunes 8, a new Grid view has replaced the List With Artwork mode. You can still get your artwork in List view. All you need to do is select View -> Show Artwork Column (or press Command-G) while in list view to show (or hide, if visible) the artwork column.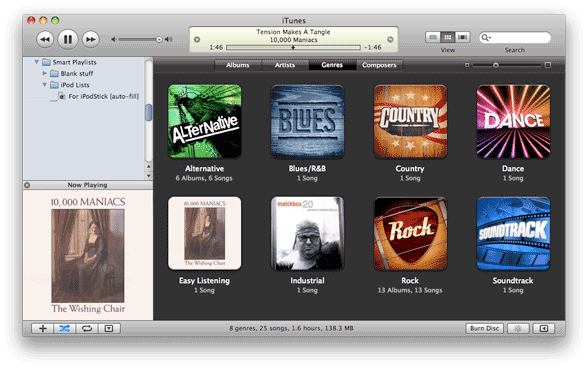 The new Grid view shows an iPhoto-like overview of your library or playlist—images are used to represent collections of songs, sorted by album, artist, genre, or composer. Mouse over a tile, and you can play everything in that tile with a click of the mouse—or just drag the mouse to see a preview of the covers within that tile (if you're sorting by artist, genre, or composer view—mousing over a tile in album view just produces a Play Album option). If you enjoy the rollover previews in iPhoto (and the new iMovie), you'll probably really like Grid view.
If you don't like the covers or generic genre icons that iTunes chooses to display, move your cursor over the tile until you find one you like, then Control-click and choose Set Default Grid Artwork from the pop-up menu. You can change your setting by Control-clicking and choosing Remove Default Grid Artwork from the pop-up menu, then choosing a different cover. If you want to see what's behind a grid icon, double-click it; you'll see all the albums or songs in list-with-artwork view.
Beyond this well-publicized new view mode, however, iTunes 8 sports a number of other interface changes. For starters, the preferences have been rearranged. You'll find the importing preferences in the General tab now, moved out of their previous home in the Advanced tab. Burning preferences, which used to have their own tab in the Advanced tab, have seemingly vanished. Relax: they haven't gone the way of the dodo. You'll find them on the dialog box that appears when you select File -> Library -> Burn Playlist to Disc (or when you click the Burn Disc button). While a bit confusing at first, this new layout makes sense, and puts these preferences in more-easily-seen locations.
Another change in iTunes 8 is the disappearance of the Podcasts tab from the Preferences screen. Instead, there's now a Settings button at the bottom of the screen when you enter the Podcasts section of the library. On the Settings panel that appears when you click the button, you'll find a most-welcome improvement: a Settings For pop-up menu lets you set the number of episodes to keep (and what to do when new episodes are available) on a per-podcast basis. In prior versions of iTunes, you could only set the number of episodes to keep on a global basis.
Finally, there are some preferences that have just flat-out vanished. There's no longer a setting to toggle the iTunes Store links, to toggle the Genre column in the Browser, to toggle the playback of songs while importing, or to create file names with track numbers. (MacOSXHints.com features workarounds for the iTunes Store links and Genre column in the Browser issues.)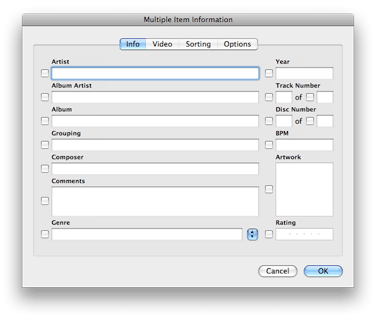 iTunes 8 is also much better when dealing with changing tags on multiple items now, which was somewhat of a weak point in previous releases. A new tabbed window appears when you press Command-I with a number of items selected, giving you a number of additional items that can be changed—including a tab dedicated to changing sort order.
Also, if you do a lot with videos in iTunes, a new Media Kind pop-up on the Options tab of this dialog lets you easily change the kind of the selected media files. You couldn't do that in previous versions of iTunes without resorting to an AppleScript. You can also change files to audiobooks, either individually or as a group, which forces them to display in the Audiobooks library. This, too, could only be done with AppleScript in prior versions of iTunes.
For users with impaired vision, iTunes 8 is now screen-reader friendly, on both Macs and PCs. You can use Apple's VoiceOver screen reader to manage your library and even purchase things from the iTunes Store.
Finally, while I typically don't like to relate behaviors I haven't directly observed, Kirk McElhearn's large library experience seems worth sharing. With more than 200GB of music, Kirk found previous versions of iTunes to be quite slow. He used to have notable delays when doing something as simple as checking or unchecking files in his library, or when changing tags on a group of tracks. With iTunes 8, he says those delays are gone, and the program is "much much faster" than iTunes 7 was with his extra large library. In addition, he states that it rips CDs much faster as well.
First impressions
iTunes 8 continues the evolution of Apple's key media player. The new Genius feature worked well at both helping me find things in my library I hadn't listened to lately, as well as new music from groups I otherwise may never have found. The new visualizer is stunning, and the performance improvements with large libraries will be welcomed by many.
We'll have a full review of iTunes 8 at Macworld.com soon.
Kirk McElhearn contributed to this article.
[Senior editor Rob Griffiths runs the Mac OSX Hints Web site.]
Updated at 12:50pm with corrected information about HD shows, and details on an iTunes HD download bug.