As is customary with Apple Events these days, the company has posted a streaming QuickTime video of its September event, where CEO Steve Jobs revealed new iPod nanos, updated iTunes, updated iPod touch and updated iPhone software.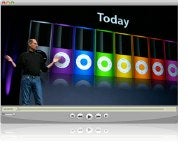 Jobs, appearing on stage in his customary black turtleneck and jeans, immediately tried to quell rumors about health problems by taking a page from Mark Twain and announcing to the audience, "The reports of my death are greatly exaggerated."
He then introduced iTunes 8, a new version of the software that lets users download and watch HD television shows and adds a new "Genius" feature that intelligently builds playlists and recommends downloads based on the song you're listening to.
He also introduced a redesigned iPod nano that features a screen with a wider aspect ratio (when held sideways) and comes in different colors; an updated iPod classic with 120GB hard drive; new in-ear headphones; an updated iPod touch with key changes like external volume control; and a demo of many of the great games you can buy from the App Store.