ATTO Technology on Wednesday introduced their Celerity FC-84EN Host Adapter. The $3,995 host adapter card works in Mac Pros and other systems with PCI Express (PCIe) 2.0 interfaces.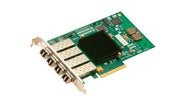 The Celerity FC-84EN Host Adapter is an 8-Gigabit, quad Fibre Channel host adapter with an x8 PCI Express 2.0 bus interconnect. ATTO claims this is the industry's first 8-Gb card, working at up to 6400 megabytes (MB) per second.
The PC-84EN is intended for 2K or 4K film editing, tape streaming and backup, delivery of rich media content and complex database manipulation. The card uses Celerity Fibre Channel software, which includes Mac OS X drivers.
Features include backward compatibility with 4Gb and 2Gb legacy Fibre Channel, support for the SNIA host adapter API, and 1600MB/sec throughput per Fibre Channel port in full duplex mode.