This is the easiest buck I've spent on the App Store in weeks. touchGrove has re-created the classic Mattel Football electronic game of my youth as an iPhone and iPod touch game called LED Football. On nostalgia value alone, I have to give this game high marks.
If you grew up in the age of Game Boys and PSPs, chances are this might have you scratching your head. But way back in the Stone Age, when I was a lad, this was cutting edge technology. The year was 1977. Jimmy Carter was in the White House, Rod Stewart was at the top of the charts, and Mattel was about to change the way kids played games.
Battery operated calculators had been around for a few years, starting with ridiculously expensive models that only captains of industry could afford. But by '77, the technology had gotten mainstream enough that you could walk into a department store and buy one without breaking the bank. Mattel adapted the display technology and logic to create a handheld electronic football game for kids at a reasonable price, and Football was born. It sported only rudimentary beeps and blips, and the teams on the screen were simply brightly colored dashes, but it was enough.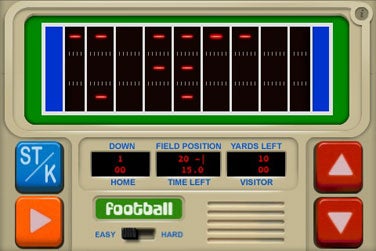 Mattel Football was an instant classic with me and all my friends, and I imagine you'd be hard-pressed to find a man in his late 30s in the United States who doesn't have at least a passing familiarity with this game. We'd sneak it to school and play furiously at lunch and recess, seeing how high we could score.
Mattel even tapped into the nostalgia this game evokes when it released Classic Football a few years ago. You can still find it on the shelves of toy stores; Mattel even made a keychain version.
Long story short, touchGrove has recreated the Mattel Football game. The software maker has changed things a little bit—the scoreboard display has been moved around, and there's no Status or Score buttons (no need, since all that's displayed on the scoreboard now). But the look and feel of the game is unmistakably like Mattel Football.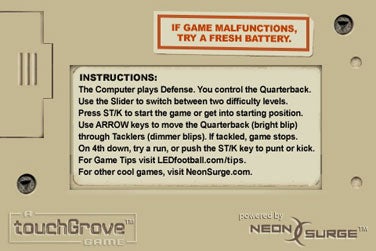 The nostalgia factor even goes down to the information screen, which spins the virtual handheld game to reveal a back pocked by a battery door and instructions, along with a label that tells you to try a new battery if the game malfunctions (just like the real game did).
LED Football certainly isn't the most challenging game, and it doesn't have the visual pizzazz of Gameloft's newly released Real Soccer 2009. (There's a dearth of gridiron football games to compare it to, frankly). But for men and women of a certain age, LED Football takes you straight back to Toughskins, Star Wars, KC and the Sunshine Band … well, some things are probably best left in the past.
LED Football is compatible with any iPhone or iPod touch running the iPhone 2.0 software update.
[Senior editor Peter Cohen covers games for Macworld's Game Room.]