At a Glance
Expert's Rating
Pros
Water-, smudge-, and fade-resistant prints
Inexpensive
Print, scan and copy functionality in one unit
Cons
Scans limited to 24-bit files
Reddish photo prints and scans
Our Verdict
Epson's Stylus NX400 is an inexpensive ink-jet multifunction device that can print, scan, and copy documents and photos. It attaches to your Mac via USB 2.0, though many of the NX400's features can be used without a computer thanks to its flash memory card slots and PictBridge USB port.
The NX400 uses four pigment-based inks, each housed in an individual ink tank; you can replace the individual empty cartridges as needed. The inks dry instantly, and prints can be handled as soon as they exit the printer. The prints are smudge, water, and fade resistant. The only downside is that printed photos have a prominent glare when viewed off-angle. The photos look fine when viewed straight on.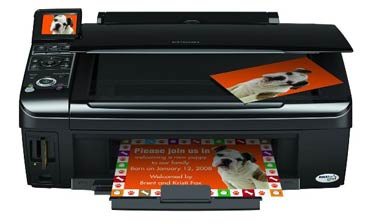 Though not billed as a professional-quality photo printer, the NX400 received a Very Good rating from our panel of editors who judged the image quality. The prints had bright and pleasing colors that tended to be a little on the red side. Under close inspection, photos had some visible dots in some light areas of the prints, but nothing out of the ordinary for this class of printer. Our graphics and fine line test prints, as well as text tests, earned the NX400 Very Good ratings as well.
The NX400 took about 18 seconds to print a 1-page Word document at Normal settings. It took 2 minutes and 35 seconds to print a 10-page document.
The NX400 also features a legal-sized flatbed scanner with an optical resolution of 1,200 dpi. It scans at 48 bits, but outputs just 24 bits; this is a concern mostly for advanced amateur photographers who want to start out with the highest bit scan possible before tweaking things in Photoshop—not exactly the target market for this $100 device.
The scanner bed is tilted slightly forward, making the positioning of items to be scanned on the glass a little difficult, as sheets of paper slid forward. Once everything was positioned correctly, our test scans from the NX400 were of Very Good quality. A scan of our 8-by-10-inch picnic test photo took 1 minute and 24 seconds; like the print output, it was a little too red, but was in the right ballpark. The scan captured a good amount of detail, even in shadows and highlight areas. A scan of our resolution test chart also showed a high level of detail captured in the file.
Because it's both a scanner and a printer, the NX400 also works as a stand-alone copier. We copied photos, magazine covers, and office documents and found the resulting copies to be of Superior quality.
Timed Trials: Print
| | |
| --- | --- |
| 10-page Word test (Normal) | 2:35 |
| 1-page Word test (Normal) | 0:18 |
| 22MB Photoshop image (Best) | 6:00 |
| 4-page PDF (Normal) | 1:22 |
Scale = minutes:seconds
Timed Trials: Scan
| | |
| --- | --- |
| 8-by-10-inch photo, 600 dpi scan, 48-bit | 1:24 |
| 4-by-6-inch photo, 1,200 dpi scan, 48-bit | 3:15 |
Scale = minutes:seconds
Jury Tests: Print
| | |
| --- | --- |
| Graphics: Fine lines and gradients | Very Good |
| 22MB Photoshop image quality | Very Good |
| Text quality | Very Good |
Scale = Superior, Very Good, Good, Fair, Poor
Jury Tests: Scan
| | |
| --- | --- |
| Color | Good |
| Clarity | Good |
| Copy | Superior |
Scale = Superior, Very Good, Good, Fair, Poor
Specifications
| | |
| --- | --- |
| Print resolution | 5,760 x 1,440 |
| Scan resolution | 1,200 dpi |
| Max scanning bit depth | 48 bit color, scan 24 bit output |
| Connection | USB |
| Papers sizes | up to 8.5″ wide and 44″ in length |
| Cost to replace ink | $54.01 ($12.34 each for cyan, magenta and yellow; $16.99 for black) |
| Weight (in pounds) | 15.2 |
| Dimensions (width x height x depth, in inches) | 11.7 x 21.3 x 17.7 |
| Paper capacity | 120 sheets |
| Special features | Durable prints; stand-alone copier, photo printer. |
Macworld's buying advice
For those looking for a good all-around multifunction printer, Epson's Stylus NX400 does a very good job printing both text and photos, scanning both documents and photographs, and copying a variety of materials.
[James Galbraith is Macworld's lab director.]