Freeverse Software on Thursday announced the release of Big Bang Board Games for the iPhone and iPod touch. It's available for purchase and download from the App Store and costs $7.99.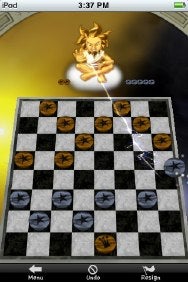 Based on their popular Mac game, Big Bang Board Games offers iPhone and iPod touch users a "classic" collection of board games — Chess, Backgammon, Checkers, Mancala, Reversi, 4-In-A-Row and Tic-Tac-Toe.
Just like its Mac counterpart, the game features Sol and Luna, animated characters that offer you encouragement, taunt you, and shoot lightning at your pieces if you anger them. The game includes customizable piece sets, support for landscape and portrait mode, auto-save, unlimited undo and other features.
Big Bang Board Games requires an iPod touch or iPhone running iPhone 2.x software.