Cartoon Network is getting into the massively multiplayer online game business. And Mac users can join in on the fun.
Resisting the lure many developers feel to make their games as risqué as possible, Cartoon Network's Fusion Fall is instead a PG-rated MMOG that features the iconic characters of Dexter (from Dexter's Laboratory; not this Dexter), Samurai Jack, and the Powerpuff Girls in their battle to save the cartoon planet from an evil alien force.
I sat down for a demo of Fusion Fall with executive producer Chris Waldron to get a first look at this new MMOG. Due to the success of the games on Cartoon Network's Web site, the television network is working with Korean developers Grigon to produce a browser-based MMOG. The kid-focused game will be subscription-based, but a good chunk of it will also be free to the public. Equipped with numerous safety features to ensure a healthy environment for kids of all ages, the game is one of the first kid-centric MMOGs out there. Cartoon Network offers a refreshing alternative to the brutal violence of many MMOGs by creating a silly world where gumball cannons, imaginary friends, and annoying ballerina sisters can co-exist.
I played around with a couple of Chris Waldron's avatars, as he explained that you can play as a boy or girl resistance fighter who must free the cartoon characters and seek their aid in the defense of the planet. The games developers built more than 60 areas to explore and 36 levels to achieve. The cartoon characters are presented as "nanos" you must find (usually by beating their evil clone) and that can then be summoned to aid you in combat. Some characters give you bonuses, others attack your enemies, and some give you quests to complete. In my first mission, I defeated evil "Numbuh 2," a character from The Kids Next Door, and enlisted the freed character to aid in my future adventures.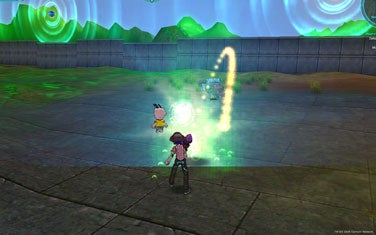 At first, the casual fan of Cartoon Network may be confused by the art style of the characters. In order to make the world more cohesive, the art style has been altered by a Japanese manga artist. Instead of the abstract Foster's Home for Imaginary Friends disrupting the hyper-cute Powerpuff girls art style, they all received anime makeovers in this interactive world. This makes for a more uniform world, sure, but I initially scratched my head at the sight of a non-pint-sized Dexter.
The game is meant for an 8-to-14-year-old demographic, the so-called "tweens" and likely for fans of both the many original Cartoon Network shows and the Toonami lineup. But adults are not being ignored. Instead of creating a very simple game, Waldron explains that the designers sought to "create a game for kids that takes them seriously." It's not "watered down" and will challenge them with a combination of platforming, combat, races, and puzzles throughout the game.
Fusion Fall will also offer a number of ways to protect kids. Thanks to a partnership with Crisp Thinking, the game has chat filtering, moderated character names, forum filtering, and parental approval required for chat. But one of the more interesting features is the fatigue system. The game is designed to be played in 30-minute segments and actively prevents you from playing hours at a time. How? You'll receive fewer and fewer rewards the longer you play until you don't receive any awards for continued play. This may seem like a surefire way to turn off users, but you'll also get a contrasting bonus for logging back in a few hours later. The game rewards players who pace themselves and is intended to ensure kids won't be too distracted from homework or playing outside.
Mac users should be relieved to know that Fusion Fall is a browser-based game and we played the demo off a MacBook Pro. You can play it on pretty much any browser (with the exception of the newly-released Chrome, which isn't Mac-compatible at this point anyway).
While official specs for Fusion Fall haven't been released, the Cartoon Network people led me to believe that it will have low specs so to as include as many users as possible. If you want to check out the world early, signup for the beta at Fusionfall.com.