FlyCast, the mobile broadcast network formerly known as FlyTunes, is now available on the iPhone as a native app, available for download from the App Store. It's free to download and use.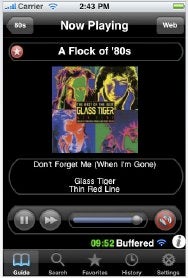 FlyCast offers more than 1,000 digital channels for every genre of music, terrestrial radio, weather, talk and traffic.
Features of the FlyCast Mobile app for the iPhone include the ability to pause live broadcast on all stations, song skipping on specific webcasts and "StreamAhead," a feature that lets you continue to listen to a station even during extended periods without a connection. "Top of the Hour" lets latecomers listen to the beginning of talk radio shows.
FlyCast Mobile also includes an embedded Web browser, background play and battery saver modes, a connection speed identifier, radio pre-sets, search capabilities, and a connection to the iTunes Store to purchase songs you've heard that you like.