Western Digital (WD) on Friday announced that it's shipping its Scorpio Blue 500GB 2.5-inch hard disk drive. It costs $219.99.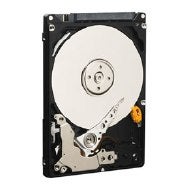 The drive crams 250GB onto each of two platters into a Serial ATA (SATA) hard drive mechanism suitable for installation in laptop computers. The two platters reside in a 9.5mm hard disk drive mechanism—the standard height for a laptop hard drive.
300GB remains the largest hard drive you can order from Apple for a Mac laptop; that's an option on the 17-inch MacBook Pro. MacBooks and MacBook Pros both take commodity hard drive components, and a user interested in upgrading their system could add this 500GB drive themselves (or pay a technician to do it).
The drive operates at 5400 revolutions per minute (RPM) and features WD's "WhisperDrive" technology, which the manufacturer claims allows it to operate more quietly. "ShockGuard" firmware and hardware protect the drive if it's dropped or bumped, while "IntelliSeek" calculates optimum seek speeds to lower power consumption.