MacBook Pro users looking to expand their laptops with faster external storage have a new choice from Sonnet Technologies, which has introduced the Tempo SATA Pro ExpressCard/34. It costs $299.95 and will be available in October.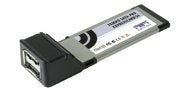 The card fits into the expansion port found on MacBook Pro 15 and 17-inch models. It's a Serial ATA (SATA) host controller card, and it features two external SATA (eSATA) interfaces. Using those interfaces, you can attach external hard disk drives that come equipped with eSATA.
eSATA is gaining ground as a high-speed interface for users who need to move large volumes of data for digital video and music, multimedia, databases and other content. Sonnet claims the card can work at up to 200 MB/sec sustained throughput.
The new Tempo SATA Pro ExpressCard/34 is based on Sonnet's own E4P host controller for desktop computers. It can connect up to 10 SATA hard drives.