iPhone 2.0 brought a lot of cool features with it, but it also brought a lot of bugs. Performance was slow, calls dropped often, and the battery life was less than impressive—and that's just off the top of my head.
Apple promised on Tuesday that the iPhone 2.1 update, released Friday morning, would save us all from the iPhone 2.0's sins, but as it turns out, the software brings with it more than just bug fixes. Apple also took the time to sneak in a few new features along with its extensive mea culpa.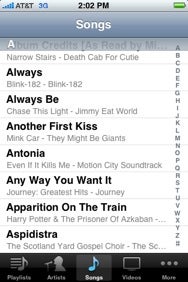 Music to your ears
The most significant feature changes in iPhone 2.1 come in the device's iPod application. For one thing, in most views when displaying a list of tracks, the iPod app borrows a page from Apple's Remote application, showing the artist and album in smaller text underneath.
When browsing Podcasts or Videos, the iPhone 2.1 software also gives you more information. Rather than displaying a blue dot next to a video or podcast that hasn't been listened to or watched, the software now also shows a blue half-moon for videos that have been started but not finished. And in the case of podcasts, it will also tell you how much time remains from the point at which you stopped listening. Telling episodes apart is easier too, since the iPhone will also show you when episodes were published, the episode name, and the full runtime.
Real Genius
The biggest addition to the iPod application is, of course, the new Genius feature that pervades all of the new products that Apple introduced this week. (Our iTunes 8 review explains the Genius in greater depth.) You'll need to sync your iPhone to your computer before you get access to Genius, but once it's installed creating a Genius playlist is easy: When listening to a song, tap the album art to show the scrubber panel. Nestled in between the shuffle and repeat controls is the Genius's "atom" icon. Tapping that will generate a Genius playlist based on the playing track.
Once you've created a Genius playlist—which, unlike iTunes, is limited to 25 tracks on the iPhone—you can save it, refresh it with new songs, or create a Genius playlist based on a different song on your iPhone. Saving the playlist will add it to your existing playlists; it'll be named after the song on which the playlist was based and there'll be a Genius icon next to it. There's also a "Genius" playlist that permanently resides at the top of the playlist list and shows the last playlist you generated.
Everything else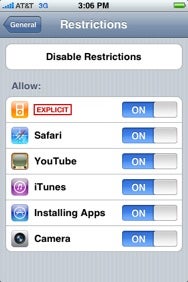 Outside of the iPod app, there are a few other new features sprinkled around the iPhone OS update. For example, the Parental Restrictions setting now allows you to turn off access to the iPhone's camera, which not only removes the Camera application from the Home screen, but also disallows access from third-party applications that implement camera features.
For the security conscious, the Passcode Lock section of Settings now offers an option to erase all data on the iPhone after 10 failed attempts at entering the passcode (which presumably works—you'll pardon me if I didn't test its effectiveness). Apple also made a handful of security updates, including preventing applications from viewing each other's data and closing a loophole with the Emergency Call feature of the Passcode Lock.
Those who use the iPhone's stock earbuds (or have a third-party headphone adapter with a click control) will also find that in addition to clicking once to play or pause music and twice to skip to the next track, a triple-click will now jump back to the previous track.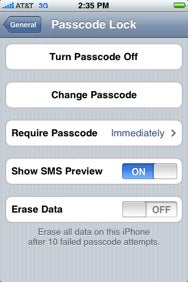 In addition, the SMS application will now alert you up to two additional times if you don't acknowledge an incoming text message. And Apple's also changed the icon in the menu for cell networks: instead of displaying white text in a blue box, the icons for 3G, EDGE, and GPRS are now just white text on a black background or blue text on a gray background, depending on the context.
In terms of bug fixes, Apple appears to have delivered a lot of the stability that was missing from the 2.0 iPhone software. As promised, iTunes backups take substantially less time than they did previously; installing third-party applications is definitely faster, even over 3G; and loading or searching contacts is definitely snappier.
Other bug fixes aren't quite as easily tested in the short-term, like better battery life, fewer dropped calls, and fewer hangs and crashes, but you can bet that we'll be keeping an eye on whether or not they measure up to Apple's claims.
[Associate editor Dan Moren blogs about the iPhone for iPhone Central.]