Since the dawn of time, humanity has wrestled with the big questions: What is my purpose in life? Why is there suffering in the world? And what is the score of the score of the Chargers-Broncos game?
As capable a device as it may be, the iPhone can't help you with those first two questions (unless, perhaps, you're using a to-do list manager to tackle the first one). But there are plenty of score-tracking applications available via the App Store to help you keep tabs on the Broncos-Chargers game, the East Carolina-Tulane showdown, the Nationals-Marlins tilt, or any other match-up you care to follow.
But which app should you turn to for all your sports report needs? That's the big question I've been wrestling with, the past few weeks, as I've put seven score-tracking applications through their paces. Some of the programs focus on a single sport, while others offers scores from all corners of the sporting galaxy. But they all attempt to deliver the same payoff—letting your relieve the tedium of your commute, errands, or day-to-day existence by checking on how the Diamondbacks are faring against the Reds.
Before we can assess these assorted scorekeepers, though, we have to define what actually constitutes a good score-tracking app. To me, an acceptable app lets me glance at the scores quickly and without having to type in a URL or search for a Web page, which I would have to do if I checked for scores using the iPhone's built-in browser. A good app lets me see the score and status of a game (what inning or quarter or period it happens to be in). And a great one lets easily me drill down deeper to get news and highlights of the game in question. I don't want to have to fumble with too many buttons or screens to find out whether the Oakland A's lost (invariably, they have) and in what manner they met their fate.
So with that criteria in mind, let's examine each of these seven score-keepers staring first with the uni-taskers that focus on one event.
Specialty score-trackers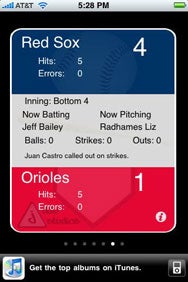 Box Score Baseball from JDub Studios tracks one sport and one sport only—Major League Baseball. Its strength lies in this simplicity—one team's score is listed at the top of the screen in blue and the opponents' score is listed on the bottom in red. The space in the middle shows who's pitching, who's batting, the ball-strike count, the outs, the inning, and the last play for games in progress. Completed games show the winning and losing pitcher, while games yet to start display the probable starting pitchers.
You select which games Box Score tracks. Tap the "i" on the app's main screen and the window flips around to reveal all 30 Major League teams. You could, theoretically, tap the names of all 30 teams to track every game being played, though at a time when more teams are joining the ranks of the mathematically eliminated, I've restricted myself to the ones involved in the pennant races. Dots on the bottom of the screen let you know how many games you're tracking—a flick of the finger moves you to the next score.
I like the fact that Box Score gives me the basic information about a game without too much fuss. It's perfect for when you're out-and-about and just want the know the score of a game involving a favorite team before you resume that conversation with that long-lost uncle or get back to watching your kid's soccer game.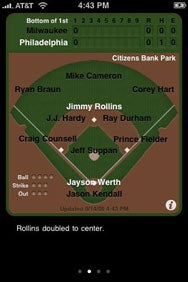 That said, Box Score is not without its shortcomings. I wish it displayed data in a more traditional inning-by-inning line score. More critically, there doesn't appear to be any rhyme or reason to why one team is shown on top of the screen and one appears at the bottom. At first, I thought this might have something to do with which team was playing at home—near as I can figure, though, a team you've designated as your favorite appears as the top team whether they're at home or away. If two teams you've marked are playing in the same game, then the home team appears on the bottom of the screen. It would be better to use team colors instead of the blue-and-red scheme—it's a little odd to see the Boston Red Sox as the blue team, for instance. And while Box Score is great at retrieving scores when you're on a 3G or Wi-Fi network, it's not as adept when forced to use EDGE—in that situation, the app will often give up because of the slow data-transfer speeds.
Like Box Score, LiveSportz from Bluefish Wireless focuses only on baseball (though the app's page at the App Store promises an NFL version in the fall. Also like Box Score, LiveSportz asks that you pick from a list of teams to see scores from their games. But unlike Box Score, which remembers the teams you've picked, LiveSportz requires you to select new games each day—even though it already has checked off the games involving teams you've designated at your favorites. It's an unnecessary step which defeats no-fuss purpose of dedicated score trackers.
LiveSportz also makes it very hard to get scores at a glance because of some curious layout decisions. The line score—arguably the most critical piece of data for a scoring app—is crammed into the top fifth of the screen. That's so that LiveSportz can depict a complete baseball diamond listing the names of each player at their corresponding position on the field. Which is the more salient piece of information—that Ryan Sweeney is playing right field in the Oakland-Texas game or that the A's and Rangers are knotted up at four runs apiece heading into the eighth inning? LiveSportz seems to think it's the former. The app also makes it hard to see what the score is by using a black font on a green background for much of its data—I found myself having to stare at the screen, particularly when I was outside, just to make out how many runs the home team had.
LiveSportz's shortcomings are a shame because it could be a very useful app if you want more than just the score. The app updates frequently, so you can get updates on at-bat basis. Adding a more sensible way to select games and choosing some eye-friendly fonts would go along way to moving LiveSportz into my starting lineup; for now, it's riding the pine.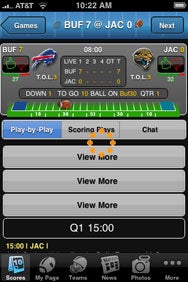 Plusmo tries to take the comprehensive approach with National Football League action in its Pro Football Live app. Pro Football Live delivers not only scores and games stats but photos, news, and an ill-advised chat feature. The app falls short, not because it fails to have these things, but because it tries to pack in too much.
On game day, Pro Football Live cleverly divides the list of games by those that haven't started, those being played right now, and those that are already completed. Once you tap past this easy-to-read screen, the descent into madness begins. Pro Football Live lets you jump between screens showing the play-by-play accounts, scoring plays, and a chat screen where, presumably, you can type in cheers and jeers for the teams involved in the game. (I say "presumably" because my attempt to test this feature didn't work; the chat messages—pearls of wisdom along the lines of "go niners!"—seem to disappear once the game is over, so one wonders what the point is at any rate.)
My attempts to toggle between the various views usually ended in tears. The app reloads data so often—a swirling orange circle appears in the middle of the screen seemingly every 30 seconds—that you often find the page resetting before you can get a glimpse at the data you're trying to find. That is, if even get to stay on the right view: my attempt to see the play-by-play account during Sunday night's Steelers-Browns game kept getting forcibly redirected to the useless chat feature. All of this—the constant reloading, the futile searches for scoring information that should be accessible at a glance—doesn't help you stay up-to-date on football in the least; it only manages to drain your iPhone's battery at a prodigious clip. (The developer has acknowledged some interface problems in online forum postings and plans a fix in future versions.)
Other data presented in Pro Football Live isn't any more useful. You can set a page that displays your favorite team (or teams, if you're a football bigamist) that displays the teams upcoming games, links to its full schedule, and the latest photos and news. The full schedule, however, lists preseason games (utterly useless data now that the regular season has kicked off) and lists scores in a confusing manner. The Oakland Raiders' first two games, for example, are listed thusly:
Broncos Won 14 – 41
@ Chiefs Won 23-8
The Raiders, of course, split those two games losing to the Broncos and beating the Chiefs. The schedule sort of tells you that, once you realize that the first score listed is Oakland's and the second score belongs to their opponent, but it's a confusing, not especially helpful way to list data.
The news links are not especially helpful, either. The top story on the San Diego Chargers' page as I type this Sunday evening says that "Merriman to play on despite damaged knee." The Chargers placed their linebacker on injured reserve four days ago, ending his 2008 season.
Pro Football Live has the potential to be a useful score-tracker. Right now, it's not, even as a free download. Other apps—just as free—do a much better job of keeping you up-to-date on NFL scores, as we'll see in the next section.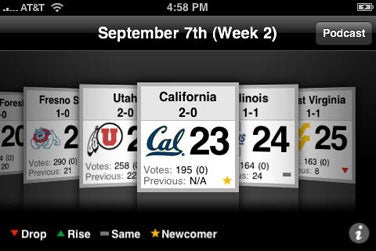 The Associated Press's AP Top 25 College Football app is not a score-tracker per se—rather it's a weekly update of the news service's college football rankings. However, the app does promise weekly game scores, recaps, and photos, so we're including it here. A warning, though—those promised scores are not of in-progress games—rather they're of completed games anywhere from a day to more than a week old. (I checked the application on Saturday, a day after the Kansas Jayhawks lost to South Florida; AP still displayed the Jayhawks' win over Louisiana Tech as Kansas's last game.
The AP app shows the top 25 in a nifty Cover Flow-like view. Tap on any one of the teams, and you can see a chart depicting the team's week-by-week rise or fall in the AP poll (a factoid that is probably of interest to only the most obsessive-compulsive college football fan) plus links to last week's game. You will not find who the team is playing this week, nor any other information about any team that's fallen out of the Top 25 rankings. (Oh, Cal—how could you play so poorly against Maryland?)
The Associated Press seems to think that access to a widely available college football poll, musty recaps of already-played games, and a link to an AP-produced podcast make this application worth the $1 it charges. The Associated Press is gravely mistaken.
Multi-sport trackers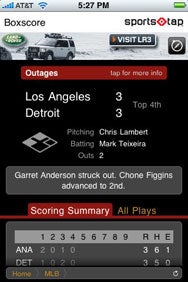 Three apps available in the App Store—SportsTap from SportsTap, ScoreMobile iPhone Edition from The Score, and Sportacular from Jeff Hamilton—provide scores from around the world of sports. All the apps take a similar approach—you choose between baseball, football, and other sports to get a list of the scores for that particular day, tapping on a specific game to get more details. Each member of this trio of multi-trackers does its job well—your favorite will most likely come down to your personal preference for one particular app's look and feel.
SportsTap, for example, lists scores in two columns, cutting down on the amount of scrolling. Arrows point to the victors, making it easier to see who won at a glance. I also like that the app lets you customize which sports appear on its home page and whether to save the last page you viewed when your return to the app (helpful if there's a particular game you had an interest in tracking).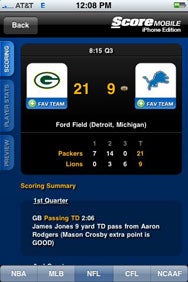 Less appealing—to me, at any rate—is SportsTap's layout. An ad takes up a considerable amount of real estate at the top of the screen. (Box Score also features ads, in contrast, but they occupy a tiny sliver at the bottom of the screen.) Also, AppTap's develops have put a tappable message ahead of the list of scores to communicate things like new features or bug reports. It's an admirable instinct to want to communicate these things to users—I just think there's a less prominent place on the screen in which to do it.
ScoreMobile underwent a recent update that tackled some pretty severe navigational bugs; if you tried the app earlier and gave up on it, give it a second chance because the improvements are dramatic. Like AppTap, ScoreMobile offers some degree of customization—you can designate teams as favorites, causing them to appear at the top of the score list in a bright yellow font. That's important, because the fonts and buttons in SportsMobile are a little too tiny for my liking. Sports fans with sharper eyes than mine are free to disagree.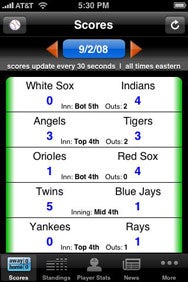 My favorite sport tracker has turned out to be Sportacular, which offers both a concise at-a-glance view of the day's sporting scores along with a wealth of stats, news, and player data. A ball logo at the top of the screen lets you easily jump between seven sports. Once inside a particular sport, Sportacular lists that day's scores—arrows let you jump forward and back on the calendar—while icons at the bottom of the screen let you access standings, stats, and news related to that sport. The Player Stats screen is especially useful—not only can you look individual stats, there's also a feature that lets you track the performance of players on your fantasy teams. (Not that I would ever waste my time on such frivolities.)
In sports, you value a player who can excel at multiple positions. Sportacular is that same kind of valuable utility player—it's as great at quickly checking to see who won as it is showing you how they won.
All seven apps reviewed are compatible with any iPhone or iPod touch running the iPhone 2.x software update.
[Macworld.com executive editor Philip Michaels now knows the scores of Canadian Football League contests thanks to these apps.]