QuickerTek on Monday introduced a new version of its ExpressCard MacBook Pro networking product line that features an external antenna. It costs $199.95.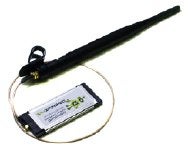 MacBook Pros feature internal Wi-Fi connectivity, which is limited to about 30 milliwatts (mw) of wireless power. QuickerTek says its ExpressCard — designed to fit into the expansion port on MacBook Pro models — has 300 mw of power. The more power, the more likely it is you can pick up a weak networking signal or attach to a wireless network through walls, office equipment and floors.
The card operates on 802.11b, g and n wi-fi frequencies, and it works with all Apple AirPort Base Stations. The card also supports WPA, WPA-2 and 128-bit WEP security protocols. It requires Mac OS X 10.4 or later.