Media Atelier has released GrandTotal 1.0, an invoicing application for Mac OS X. It costs €49 (US$70.48).
GrandTotal helps freelancers, small and medium-sized businesses and others to generate personalized invoices, estimates and account statements for their clients. It features word processing and layout tools.
Features in GrandTotal include integration of Mac OS X's Address Book, direct creation of e-mail invoices; estimates and account statements; support for multiple currencies and tax rates; the ability to inform you of past-due invoices, even if the app is not running; built-in catalog for recurring services and items; smart lists and export options.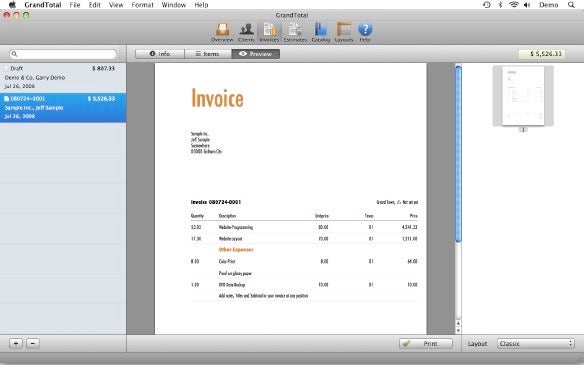 GrandTotal is designed to operate as standalone software, though it can also work in conjunction with another Media Atelier application, TimeLog 4. TimeLog 4 is used for time tracking. (TimeLog 4 users can get a discount registering both apps.)
System requirements call for Mac OS X 10.5 or later.