Poll iPhone users about the shortcomings of the device, and one of the top responses you'll get—assuming those users haven't shouted themselves hoarse over the lack of copy-and-paste functionality—is the lack of built-in support for Multimedia Messaging Service. Say you snap a photo with the iPhone's built-in camera, and you want to text it to some of your contacts. You can't do that with the iPhone—at least, you can't do it without a little third-party intervention.
Palringo stepped up to fill in the vacuum in July when it brought its Palringo Instant Messenger app to the App Store. The free app links in with many existing instant messaging services to allow you to send text and picture messages to buddies.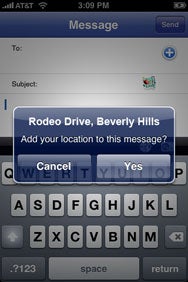 There's more competition on the MMS front as of Monday, with the addition of Flutter to the App Store. The application from JuiceCaster lets iPhone users send multimedia and text messages to multiple users in their Contacts.
In addition, Flutter users can geo-tag any picture they send, taking advantage of the GPS functionality built into the latest iPhones. When you tag a photo with your location, Flutter adds a link to the message that lets recipients see where you are on the built-in Maps application. It sounds like an ideal way to let your friends know where to rendezvous for nights on the town or for adding context to those photos you snap while traveling.
Flutter is a free service. While the App Store only lists compatibility with the iPhone, JuiceCaster says its app will work with the iPod touch—though obviously only with images from the Photo library since the widescreen music player doesn't sport a built-in camera.