Iugo Mobile Entertainment makes its debut on the iPhone with Toy Bot Diaries, an original game built for Apple's mobile device. The game is a lot of fun, but it's a bit too in love with the iPhone's interface for my liking.
Toy Bot Diaries concerns the welfare of a little yellow robot who, finding himself in a vending machine, must discover a way out and through a maze of corridors, tunnels and walkways. The robot can magnetically grapple to objects and can also magnetize his feet to pick up metallic objects. These skills come in handy both as a way of moving across various surfaces (swinging Pitfall Harry-style across various obstacles, as if on a rope) and solving puzzles (inserting a coin into a slot to open a door, for example).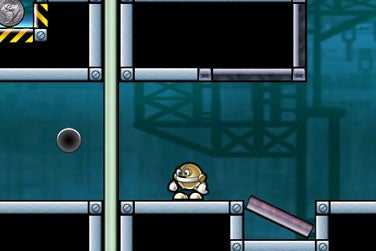 You move by tilting the iPhone from side to side; you touch parts of the screen to grappling and magnetizing. You can also pause by touching the screen with two fingers. Checkpoints save your progress along the way, and you can resume your game from where you left off if you get a phone call or need to get back to something else. You can also resume play from the start of any "chapter" in the game you've finished.
Iugo deserves a lot of credit for trying something original and unique with the iPhone, and Toy Bot Diaries gets high marks for its original artwork, design, and sound effects. All these are superlative for a first-generation iPhone game and help to establish Iugo as a premier iPhone game developer.
The proof of the pudding, as they say, is in the eating, and this is where Toy Bot Diaries falls a bit short for me. It's clear that the iPhone's interface was a great novelty to the designers of the game, who use it to distraction as a way of moving the robot and having him interact with his environment. Getting him to swing on his magnetic line, for example, requires you to tilt the iPhone back and forth repeatedly. But you can do this without getting the robot to swing far enough or fast enough—they paid attention to the physics, but only to a degree.
What's more, there isn't a ton of challenge here—Toy Bot Diaries is easily finished in just a few sittings. Almost all of the game's challenges are based on lock-and-key puzzles or understanding pretty basic interactions between the robot and his environment.
Having said that, Toy Bot Diaries gets an A in my book for effort, and Iugo has released a free version—a demo—to let you get a taste before you plunk down your $4. Which, I should add, seems like a reasonable amount for an iPhone game.
Toy Bot Diaries is compatible with any iPhone or iPod touch running the iPhone 2.0 software update.
[Senior editor Peter Cohen covers games for Macworld's Game Room.]