MicroNet has introduced the RAIDBank 4, a compact RAID system intended for use by small and medium businesses. It's priced starting at $999 for a 2 terabyte (TB) configuration.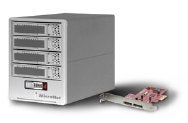 The RAIDBank 4 has external Serial ATA (eSATA) and USB 2.0 interfaces, and measures 6.5 x 4.75 inches. Inside is a 64-bit RISC processor with 128MB high-speed cache. Drives are hot-swappable, and the drive features auto-rebuild support. The chassis is made of aluminum.
MicroNet includes a two-port eSATA PCI Express (PCIe) host adapter card and NTI Shadow backup software. A 4TB version is also available, for $1,499.