At a Glance
Expert's Rating
Pros
Great tutorials and help features
Highly customizable
Automatic novel and screenplay formatting
Cons
Spotty importing
Limited multimedia support
No full-screen editing
Expensive compared with rivals
Our Verdict
If your writing desk overflows with setting notes, character sketches, and plot points, Storyist can help you whip your stories into shape. Writers who plan carefully before putting words to page will likely enjoy its neatly organized slots for each element of a novel or screenplay. But more freewheeling authors may find that this elaborate scaffolding distracts them from actual writing.
Storyist assembles all the elements of your novel or screenplay into a handy file list on the left side of the main program window. In addition to the chapters and sections of your manuscript, Storyist can create files with descriptions of individual scenes or sections, plot points or threads, characters, and settings. It also provides a notebook for jotting down text or inserting PDF files, links to Web pages, photographs, or video. Those last three formats can't be added on their own; instead, you must drag them onto a new blank notebook page. Once added, photos and videos cannot be resized—one widescreen video I added was squashed into an incorrect aspect ratio.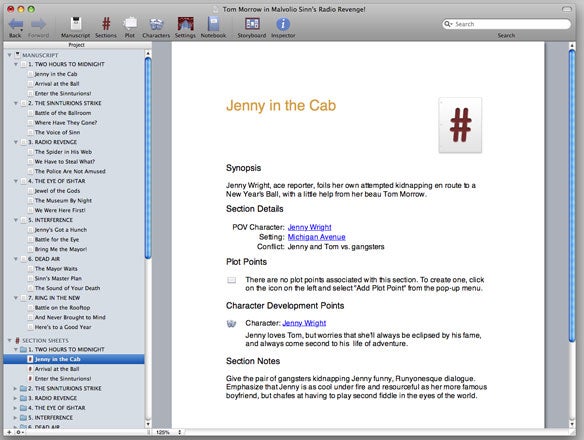 The details of each of these files are fully customizable. For example, in addition to the preset fields for a character's build and appearance, you can add listings for his or her favorite foods, hidden talents, or sworn enemies. These files automatically interlink; start typing the name of a character who appears in a given scene, and Storyist will complete the name and link to that character's file. You can even add photos or images to character and scene sheets for visual inspiration.
I appreciated the flexibility these categories offered, but often felt hemmed in by an obligation to work up full descriptions of who my characters were and where they were going before I started writing. Storyist lets you minimize and ignore all the categories if you like, but I still found them a distracting temptation. Writers who prefer to plan ahead will probably appreciate them more.
Storyist automatically formats your work according to industry-standard margin and typeface rules for novel or script submissions—one of the program's greatest strengths. You can edit the specifics of each of these styles and save your own custom style sheets.
In addition to a blank template, the provided novel and screenplay templates come with preset extras to assist you. The novel template's sample text discusses basic formatting for novel submissions and explains how each of the program's categories works; the screenplay template does likewise via an amusing mock movie script. An additional "hero's journey" template lays out the steps of a heroic quest, as defined by scholar Joseph Campbell's analysis of mythology.
The program uses Automator workflows to import and export files in a variety of common formats, including RTF, HTML, Word, and Final Draft. While I appreciated the simplicity and thoughtfulness of the Import and Export Wizards—including the option to automatically convert straight quotes to curly (and vice versa)—I found the importing process frustratingly spotty. Despite repeated efforts, I couldn't use the Import Wizard to open an RTF file; the regular Open command worked fine.
For a program that costs at least $15 more than any of its major competitors, Storyist lacks several of the competition's higher-end features. There's no full-screen editing mode, and no built-in ability to set word-count goals for a given document or session, although you can approximate the latter by editing the Scene template to include the current word count. According to Storyist, word goals are planned for version 1.5, which should be out by the time you read this; full-screen editing should be part of version 2.0, expected in January 2009.
Storyist was polished and useful on the whole, but I found a few minor aggravations. The program lets you view scene and plot point descriptions as virtual note cards, yet their default appearance makes those descriptions unreadable; expanding them to full legibility makes the cards enormous. (Thankfully, you can switch to a much more readable Outline view.) Also, while the Help features are largely useful and well-written, I noticed at least one bad link and some lingering dummy text.
Macworld's buying advice
Writers who thrive on structure and need a solid framework to wrangle their copious notes will enjoy Storyist's approach to writing. But if you don't need quite so much detail when you write, there are less expensive and equally feature-rich alternatives.
[Nathan Alderman is a freelance writer, editor, and would-be novelist in Alexandria, Va.]