The digital still camera market got something new earlier this year when Casio launched its Exilim F1 model with the ability to take super slow-motion video and perform a host of neat tricks thanks to a burst shooting mode. Casio's newest camera, the Exilim EX-FH20, was launched Tuesday and features most of the same technology but is more compact, offers a higher resolution and is cheaper.
It's aimed at a wider audience than the F1, said Atsushi Shibutani, manager of the digital camera unit at Casio's product development center in Hamura, west of Tokyo.
Casio's consumer research found many people interested in the high-speed shooting functions it offered but there were put off by the $1,000 price tag and the size. The EX-FH20 will cost around $600.
It will be launched in Japan on Sept. 19 and be available in Hong Kong in late September and the U.S. in October. European launch plans were not announced.
A quick look at the camera's main specifications show some of the differences compared to the F1. The EX-FH20 has a 9-megapixel image sensor, up from 6-megapixels on the F1; the zoom has been increased from 12X to 20X and the rear LCD (liquid crystal display) monitor is a 3-inch model from 2.8-inches on the F1.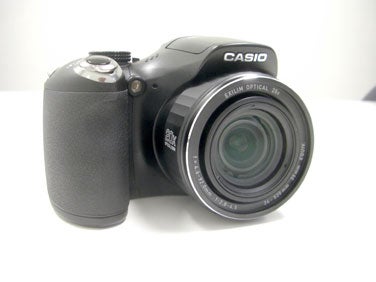 There are other changes too. A look at the two cameras side-by-side shows the EX-FH20 is a lot smaller and has as more compact lens. Casio has also simplified the body removing some of the dials and buttons to make it a less intimidating camera for potential users.
Perhaps the most interesting features are enabled by the burst shooting mode, in which the camera can take up to 40 images at 7-megapixel resolution per second. That's down from 60 per second in the F1 but that shouldn't make too much difference to the average user.
For example, pretty much anyone that has tried to capture action on film knows the difficulty in timing the shutter to just the right moment for a perfect picture. On the EX-FH20 its possible to record up to 40 photos either side of the shutter being pressed so you capture action right before and after you hit the shutter. So, if your timing is slightly off you can just move forward or backward and find that perfect picture.
But that's not all it does.
Perhaps in the past you've tried to pan your camera while taking a picture only to have the image come out blurred because you didn't move the camera in perfect time with the subject. The EX-FH20's digital panning mode will shoot a series of images as you pan and then overlay them on top of each other so that the main subject appears to remain as sharp and still as possible while the background is blurred.
The opposite is possible in multi-motion mode, where you hold the camera still and take a series of shots of a moving object, perhaps a dog running or a cyclist passing. The camera identifies the moving object, pulls it out of each picture and pastes it over a single background so you get a single image that has a series of shots of the dog as it runs or the cyclist as she passes.
And the burst shooting is also being put to use in anti-shake mode. The camera takes a series of images and overlays them so that a clear image is created. A similar feature used for nighttime scenes will add together a series of short exposure shots to make a clear but well exposed image.
The camera also has a conventional video mode that can capture high-definition 1,280-by-720 pixel video but there are higher-speed modes too.
Video can be captured at up to 1,000 frames per second. When played back at the normal 30 frames per second (fps) it makes for a super slow-motion effect, albeit on a reduced resolution 224-by-56 pixels image. Slow-motion is also possible at higher resolutions: 224-by-168 pixels at 420fps and 480-by-360 pixels at 210fps.