As much as I love going to the park to watch a baseball game live—the call of the peanut vendors, the smell of sausages cooking, and the opportunity to participate in "the wave"—the trip can have its downsides, too. For example, while Boston's Fenway Park has an enormous scoreboard in center field with a beautiful display, they often won't show a play that was particularly close for fear of jeering fans and—let's be honest—riots.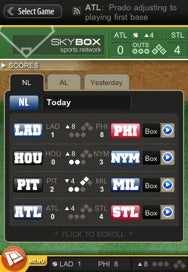 That's where Vivid Sky's SkyBOX::Baseball 2008 application for the iPhone says play ball. Not only does the program give you fingertip access to detailed stats, complete box scores, and team histories, but it also allows you to view instant replays from multiple camera angles—presuming you're in a seat at a SkyBOX-supported stadium.
At the moment, the only stadium Vivid Sky has been operating SkyBOX in is St. Louis's Busch Stadium, home to the St. Louis Cardinals, but the company hopes to expand their offerings as the application becomes more popular. Besides watching instant replays, users at the park can also view pitch and hit-tracker graphics and browse the team's memorabilia store.
Those following along at home can still check out all the stats, team histories, and box score information. The application costs $2.99 and is valid for the rest of the 2008 Major League Baseball season, including the playoffs. SkyBOX is also planning applications for other professional sports, such as hockey and football.
Of course, Major League Baseball also provides its own application, MLB At Bat, which has similar functionality, including regularly updated video highlights of all games available from any location.