Those interested in the behind-the-scenes intrigues of the App Store are surely aware that some iPhone developers and Apple don't see eye-to-eye on the issue of which applications are and are not allowed to be sold through this self-same store.
Podcaster—an application that allows you to stream and download podcasts directly to your iPhone or iPod touch rather than having to tether these devices to your computer and iTunes—has become the poster-child for this conflict. Apple rejected it with the claim that it duplicated the functionality of the Podcast section of the iPhone and iPod touch. And some argue that it does no such thing.
With the door to the App Store currently barred to Podcaster, the developer has set up an alternate means of distribution and sale. He suggests that those who want a copy register at nextdayoff.com. After submitting your e-mail address and iPhone or iPod touch UDID (its unique identification number), you receive an approval message and the request that you pay $10 for the application. Once you make that payment, you receive a link to the Podcaster archive, which includes the application and a provision file that allows you to install Podcaster on your iPhone or iPod touch.
I did all this to see what the fuss was about. Exactly this:
When the App Store first launched, developers had no good way to pass along copies of their applications to reviewers. Instead, they issued iTunes Store credits to reviewers and crossed their fingers that those credits would be used to purchase the application rather than the latest Jay-Z album. Sometime later, developers figured out that they could give copies of their applications away by issuing the applications along with something called a provision file—a file linked to an iPhone or iPod touch's unique ID. (You can see this ID by plugging your iPhone or iPod touch into your computer, selecting it in iTunes' Source list, and clicking the Serial Number entry in the Summary tab. The Identifier number that appears is that device's UDID.)
I received a link to an archive that contained both the Podcaster application and provision file. My first attempt to install it didn't work, as iTunes was unable to verify the application. I checked the Read Me file and learned that in such cases you should disconnect your computer from the Internet. I did so, and still no luck. I contacted the developer, he checked it, suggested that it worked perfectly well, and supplied another download link. The next installation attempt went without a hitch. The yellow Podcaster icon was on my Home screen.
With all the controversy surrounding this application you'd think that tapping its icon would cause demons to leap from the Dock connector port, but no. Podcaster is a simple and elegant application that just works.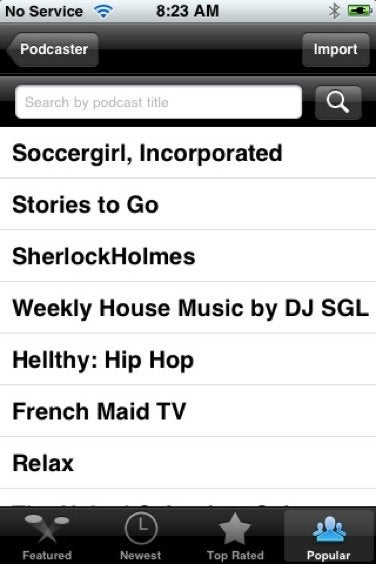 To add a podcast to Podcaster, simply tap a Plus button in the upper-left corner of the application's Podcaster screen. A Search field appears. Tap the Search field, enter your query—NPR, for example—and tap the blue Search button. (The application doesn't support the iPhone/iPod touch's Magnifying Glass editing feature, so type carefully.) A list of matches appears below. Tap one and you're told that the podcast is being imported and this import process could take three to five minutes. In every case, it took just seconds for podcasts to be added to my iPhone 3G over a Wi-Fi connection.
On this search screen, you also find four icons along the bottom—Featured, Newest, Top Rated, and Popular. The names pretty well describe what they do. Regrettably, podcast names don't scroll when they're too long to fit on the screen so if an unfamiliar podcast's title is more than about 27 characters, you'll have to guess at what it's about.
Also on this screen you'll see an Import icon. Tap it and you have the option to import podcast feeds from Podcaster.fm and by feed URL or OPML file.
To return to your list of podcasts just tap the Podcaster icon in the upper-left corner of the screen. Below you see a list of all the podcasts you've imported. At the bottom of the screen you see three icons—My Podcasts, Unplayed, and Downloads. My Podcasts lists all the podcasts you've imported, Unplayed lists just those podcast episodes you haven't listened to, and Downloads shows any episodes you've downloaded as well as the progress of currently downloading episodes.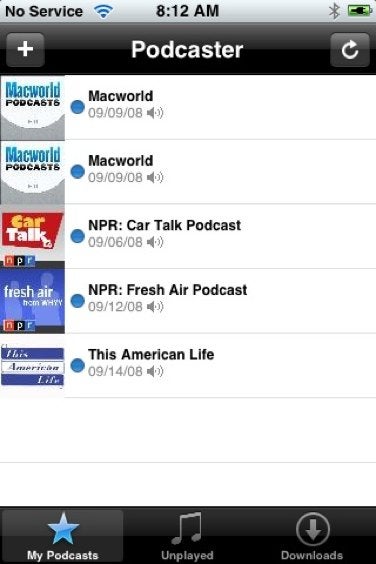 To play an episode, tap it and then tap the Play icon on the resulting screen to stream it. The Play screen for streaming podcasts is exactly what you see when you stream other kinds of QuickTime video from the Internet.
You also have the option to download the episode from this screen. Just tap the Download button in the lower-right corner of the screen and the podcast begins downloading. Downloaded podcasts play on a screen similar to the Now Playing screen you see when listening to music elsewhere on the iPhone or iPod touch. Tap the Track List icon in the upper-right corner of the screen and you see a description of that episode. From this screen you're also welcome to mark the episode as played (or a played episode as new) and delete the episode.
And that's pretty much it, a very useful application for streaming and downloading podcasts on the go—and one whose capabilities are definitely not found elsewhere on an iPhone or iPod touch.
[Senior editor Christopher Breen is the author of the upcoming iPhone Pocket Guide, third edition (2008, Peachpit Press).]