Editor's Note: This article is excerpted from MacUser.
Itching to try out Google Chrome, but don't feel like leaving the confines of your Mac? You could install Google's recently unveiled browser on Boot Camp or via virtualization, but that's a lot of hassle just to use one application.
Fortunately for you, the team at CodeWeavers is trying to simplify that. CodeWeavers is the company behind CrossOver for Mac, the program that lets you run some Windows applications on your Intel Mac without having to use Windows. CodeWeavers has taken Chromium, the freely available source behind Chrome, and set it up to run on Intel-based Macs and Linux.
Note that this is not a native version, and CodeWeavers themselves say that it's more of a proof-of-concept than anything else. You probably won't want to use it for your everyday browsing (starting it up for the first time took at least three or four minutes on my MacBook and I still can't quite figure out how to get right-click working), and it looks and feels like a Windows app. But for those interested in playing around with Chrome on the Mac, this is probably the easiest way to do that until Sergey Brin finally gets his way.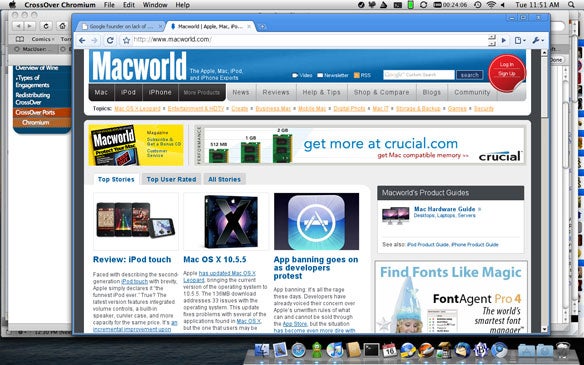 Google unveiled Chrome earlier this month, aiming to push advances in browsing technology. The company is particularly interested in improving the way browsers handled Web-based applications, which is an increasingly critical part of Google's business. Initially, the beta of the browser only runs on Windows, though a Mac version is in the works.
Beyond the lengthy startup time, Chromium is pretty responsive on the Mac, but I haven't had a chance to really put it through its paces yet, but the ability to quickly and easily search any site that you've searched before from the comfort of the location bar is already something I desperately need in Safari. If anything, this just whets my appetite for the forthcoming native Mac version.