Give Gameloft credit where it's due: Asphalt 4: Elite Racing doesn't look like some rehashed cell phone game. Instead, Asphalt 4 is the mobile game publisher's answer to EA's legendary Need for Speed franchise, and Gameloft earns props for getting it out the door before EA releases Need for Speed: Undercover, which won't be out until November.
As it turns out, Asphalt 4: Elite Racing is indeed a cell phone game, though Gameloft has taken care to retool the game for iPhone use. It's an underground racing game that puts you behind the wheel of more than two dozen high-speed sports cars and racing motorcycles as you take to the streets of major cities around the world looking for cash and glory.
If you've seen movies like Redline or The Fast and the Furious, you're familiar with the basic plotline. You're a hotshot street racer clawing his way to the top of the illegal underground racing circuit. You can win trophies, sure, but you're really in it for the money—earning cash for knocking other drivers out of the race, beating cops and generally causing lots of mayhem and destruction.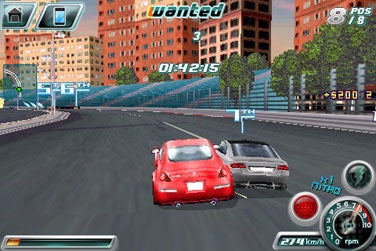 Asphalt 4 doesn't rival Carmageddon or FlatOut (two legendarily violent PC games) for bloodshed or mayhem, but there's plenty of knocking around as you bash other racers on the streets, smack into taxicabs and other vehicles, outrun cops or run them off the road, and use nitrous oxide boosts (that you collect on the track when you see them) to get some extra horsepower.
With each race that you win—or at least finish—you're bound to pick up money and goodies that you can use on your rides, unlocking extra materials that will help you out. You can customize your racer with different color schemes and make extensive tuning improvements, with speed boosts, better handling, better braking and other changes. The more money you get, the more races you'll unlock and the more real-world vehicles you'll be able to ride. Everything from a Mini Cooper S to a Bugatti EB110 is yours for the taking, if you can handle (and afford) it. In a sexist twist, the more money you make, the more "girls" you can add to your crew; each brings unique talents (such as being a mechanic who can improve your vehicle's performance).
Asphalt 4 even features different game modes, such as "drift," where you attempt to drift around corners at high speeds, "beat 'em all" and just plain racing. What's more, the game even features multiplayer support for two iPhones or iPod touches within Wi-Fi range of each other. (Unfortunately, I only have one iPhone, so I couldn't try this out.)
Where does Asphalt 4 fall short? While the graphics are good, they're still a bit pixilated and polygons are rather choppy. Music is irritating, and I turned it off quickly. And, bizarrely, you have a brake but no accelerator—there's no gas pedal; the car goes off on its own, but it's up to you to slow it down or to use nitrous oxide boosts as appropriate. (In that respect, the game's a bit like Crash Bandicoot Nitro Kart, another iPhone game.)
Asphalt 4: Elite Racing is compatible with any iPhone or iPod touch running the iPhone 2.0 software update.
[Senior editor Peter Cohen covers games for Macworld's Game Room.]