Canon has updated its three-year old EOS 5D digital SLR (single lens reflex) camera with a new model, the EOS 5D Mark II, that features the ability to record high-definition video.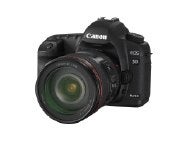 Until recently the high-def video function had never been available on a digital SLR camera but that changed in late August when Nikon debuted its D90 camera. The D90 can record 1,280 pixel by 720 pixel resolution video, which is the lower of the two high-def video modes, while Canon's new camera manages the higher resolution 1,920 pixels by 1,080 pixels resolution.
The EOS 5D Mark II will hit stores in late November in Japan and the U.S., where it will cost $2,699. The camera packaged with a 24-105 millimeter lens will cost $3,499. European launch plans have not been announced. Canon has pegged monthly production at 40,000 units.
Behind the lens sits a full-frame 21.1 megapixel sensor. A full-frame sensor is the same size as a 35mm film frame and is about double the size of the sensors used in most other digital cameras with interchangeable lenses.
Images from the sensor are processed using Canon's Digic 4 image processor, which can manage continuous shooting of 3.9 full-resolution pictures per second until the memory card is full or burst shooting of up to 310 shots, according to Canon's tests.
The screen on the rear of the camera has been updated and at 3-inches and 920,000 pixels, is both larger and higher resolution.
With the new camera Canon is launching a wireless file transmitter that can transfer images to a server via Wi-Fi or Ethernet. The WFT-E4 will cost ¥100,000.
The camera will compete with other recently launched digital SLRs including Nikon's D90 and Sony's Alpha 900.