Canon on Thursday announced four new models for its line of PowerShot point and shoot digital cameras. The new models include the G10, the SX10 IS, SD990 IS and SD880 IS. Prices range from $299.99 to $499.99, and they're all expected to go on sale in October.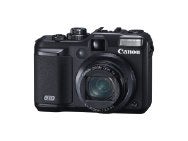 The G10 is Canon's new flagship model for the PowerShot line, and it replaces the G9. It features a 28mm wide-angle lens, 5x optical zoom, 14.7 megapixel sensor and 3.0-inch LCD display. Like all of the new PowerShot models introduced today, it features optical image stabilization.
The G10 controller wheel has a dedicated Exposure Compensation dial, and the camera features a form of continuous focus tracking to help keep the camera in focus on moving subjects. It's coming for $499.99.
The SX10 IS has a 28mm – 560mm (35mm format equivalent) wide-angle lens with 20x optical zoom, 10 megapixel sensor, 2.5-inch LCD display and "MovieSnap" mode for recording video while shooting still images. It will cost $399.99.
The SD990 IS and SD880 IS round out Canon's new PowerShot offerings. The new Digital Elph models feature the same image processors and optical image stabilization as the other new PowerShot designs. The SD990 IS features 14.7 megapixel resolution, 3.7x optical zoom and "Quick Shot" mode for faster shutter speed. The SD880 IS has a 10 megapixel sensor and 4x wide-angle optical zoom. It comes in a two-toned black and silver body with a 3.0-inch LCD display on the back. The SD990 IS and SD880 IS will cost $399.99 and $299.99 respectively.