Welcome to The Writer's Nightmare.
>look Den
This is a large room, with windows in the south and west walls, and there's sunlight streaming in through the southern window. You're standing in front of a large desk, which is finished in a lovely yet clearly plastic wood-like veneer. On top of the desk, you can see a pencil, some sheets of paper, and the remnants of a mostly-used-up eraser. Just to your side, a well-worn leather office chair is visible, its seat tilted slightly to one side, but obviously still functional.
>sit down Office Chair
You're now sitting at the large desk.
>take pencil. take sheets of paper. Taken. Taken. You're now holding the pencil in one hand, and a few sheets of paper in the other.
>write on paper. That's kind of hard to do, given you're holding the sheets of paper in your hand.
>put sheets of paper on desk. Done. The sheets of paper are now on the desk.
>write on paper. What would you like to write?
>write review of Frotz. You stare at the blank sheets of paper for what seems an eternity, and yet, no words flow from the tip of your pencil. It seems you've been hit with writer's block.
>pound head on desk. You now have a splitting headache…and a still-blank sheet of paper in front of you.
If you can make any sense of the above, then I can only surmise that you've got some experience with interactive fiction, a genre of computer gaming that pre-dates video cards and even personal computers. In interactive fiction, it's the words that create the universe in which your character resides, and the quality of the writing determines how well the game brings you into its universe.
You play an interactive fiction game, as shown above, by typing a series of commands for the game to execute on your character's behalf. Based on the game's responses to those actions, you enter more commands, all in pursuit of solving a problem or reaching some far-away goal. For many of us who grew up in the stone age, interactive fiction was our first exposure to computer gaming of any sort—in my case, I played an amazing game called Zork on a mainframe at MIT, dialed up from our home a zippy 600 baud modem connected to a TI Silent 700 terminal. Ah, those were the days…but I digress.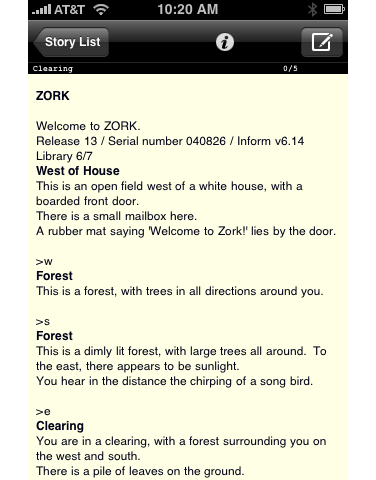 Now, thanks to the free Frotz application for the iPhone and iPod touch, even those who grew up watching 3,000 polygon-count 3-D models running around at 60 frames per second on their 1,920-by-1m200 full-color displays can take a trip into the world of pre-graphics gaming. Frotz is an open-source game interpreter that can play interactive fiction games written for the Z-Machine virtual machine (which was developed for Zork). There's a huge library of such interactive fiction available, and Frotz includes a number of games (including MIT's original Zork) in its distribution.
(As an aside, if you're not an iPhone or iPod touch owner, but are interested in interactive fiction, there are many Z-machine interpreters for the Mac. I personally use Zoom for Mac OS X.)
If the supplied games are not enough, though, Frotz includes a built-in Web browser with which you can search the Interactive Fiction DataBase—or other Web sites—for available Z-machine files. You can then install new games with a simple tap; they'll then show up in the Frotz games list. (A simple finger-swipe brings up a Delete button for those games you don't want to keep.) With the ability to find free Z-machine games anywhere on the Internet, Frotz is basically infinitely expandable.
Loading a game is as simple as tapping its name on the Frotz home screen. Once the game starts, you can play it in either portrait or landscape mode—which you may have to use for some games that expect an 80-character-wide screen. Unfortunately, Frotz won't let you change the font face or the font size. So if you find the default font too small or too ugly, you're stuck with it (at least for now, pending any future updates). Frotz includes a help page that provides a basic set of commands for interactive fiction games, and a page that explains a bit more about Frotz and Z-machine games.
While playing, if the phone rings or you press the iPhone's Home button, Frotz will automatically save your progress, so you won't have to trek back through a puzzle you've already solved. You can also save games individually using a simple save command. You can scroll the story text up and down the screen with a flick of your finger, and a double-tap will show or hide the keyboard for entering commands. I tested a number of the provided games, and they all seemed to work fine.
If you're at all interested in interactive fiction, Frotz on the iPhone is a great way to take your interest with you when you're away from home—and you can't beat the price!
Frotz is compatible with any iPhone or iPod touch running the iPhone 2.x software update.
[Senior editor Rob Griffiths offers Mac tips at MacOSXHints.com.]