Nova media on Wednesday announced the iCON 401, a wireless USB modem that helps Macs communicate on mobile data networks. It costs €199 (US$281.80).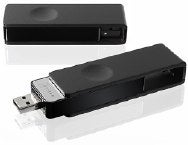 The iCON 401, which looks like a USB thumbstick, is a universal wireless modem designed for mobile Internet connections on most cell networks worldwide. It supports HSUPA, 3G UMTS, EDGE and GPRS data connections. What's more, it also features a MicroSD slot, so you can use it to transfer data to a MicroSD card. To use the device, you'll also need a SIM card from the wireless service provider you plan to use.
The iCON 401 can work at up to 7.2 megabits per second download and 2 megabits per second upload speeds on an HSUPA network. On EDGE or GPRS, your download and upload speeds are limited to 220 kilobits per second and 80 kbits/s respectively.
The iCON 401 also ships with launch2net, nova media's Internet configuration software. It includes connection settings for most mobile network providers worldwide, and displays time and data use of your mobile online sessions. A connector for an external antenna is also provided.
System requirements call for Mac OS X 10.4.3 or later.