Vuzix has announced the iWear AV310, personal video eyewear that features a widescreen display. It costs $249.95.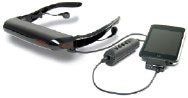 The AV310 goggles work with iPods and iPod touches, portable media players, video cameras and any other device capable of outputting an NTSC or PAL video image. They feature adjustable earbuds and nosepiece, and produce an image that Vuzix says is the equivalent of watching a 52-inch display from a distance of about nine feet away. The goggles run for up to five hours on a AA battery.
Other Vuzix eyewear provides similar functionality, but this is the first model to display video using a 16:9 widescreen aspect ratio. As a result, there are no "letterbox" bars on the top and the bottom of wide cinematic videos.
You can adjust the focus of the eyepieces from +2 to -5 diopter focus, to provide adjustment for each eye. The AV310 also sports up to 15 degrees of tilt adjustment. It has an on-screen display that lets you adjust settings, and can be used with or without eyeglasses.